We're less than two hours away from the polls closing here in South Carolina as voters rush to cast their votes at the last minute. The sentiment on the ground here today is what has been reported in the news media for weeks: Tonight is a battle between Newt Gingrich and Mitt Romney despite all candidates traveling throughout the state in an attempt to pull in last minute votes since early this morning. As I write this, Newt Gingrich is working the drive through at a local Chick-fil-A and Mitt Romney was seen doing laundry with his family earlier. Rick Santorum is polling last as we head into results tonight, however he has expressed his belief this primary process isn't a sprint, but rather a marathon. The same goes for Mitt Romney, who is leading Santorum and Paul behind Gingrich.

Here are two local newspaper covers: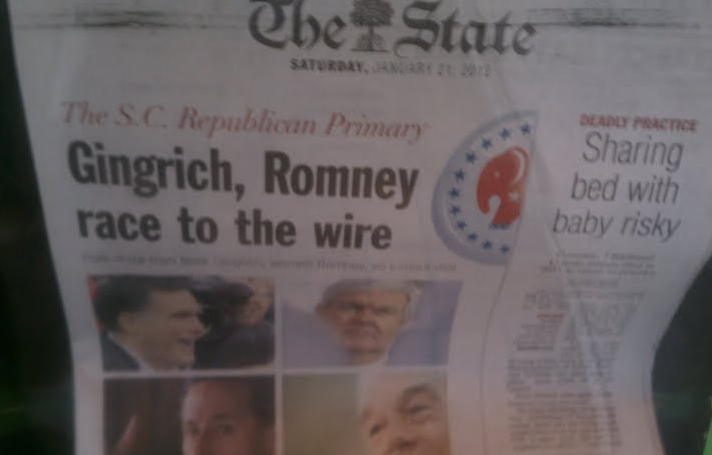 Talking to voters here today, in particular women, they are split on whether or not Newt's personal baggage will impact their vote for or against him tonight. They cite his debate performance as key in influencing their decision to move away from Romney. Voters have brushed off attacks on Mitt Romney's record at Bain and actually seen his business experience as a positive, not a negative. People say they like Rick Santorum for his conservative values, but do not believe he can beat Barack Obama in the general. Ron Paul's supporters aren't giving up hope either and have been seen standing along the roads in Columbia with signs in support of him.
Polls close at 7 p.m. EST. Join the conversation in the comment section as results come in at Townhall.com/elections and check back at the Tipsheet for primary analysis after the votes are tallied.