Editors' note: This exclusive profile of Ann Coulter first appeared in the January 2009 issue of Townhall Magazine. Click here to subscribe and receive your free copy Mark Levin's new book, "Liberty & Tyranny."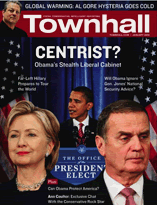 When Ann Coulter was a little girl she wanted to be "head of the Senate Foreign Relations Committee with a Republican president." Or a "fairy princess."
Instead, Coulter became the Rush Limbaugh of the printed word. She is author of six (soon to be seven) New York Times best sellers, a nationally syndicated columnist and one of the most popular speakers among young and old alike. Coulter has become the most successful conservative writer working today, with more than 3 million books sold. No 21st century conservative writer—male or female—comes even close. Like Limbaugh, her audience keeps growing. When a new book is released, liberals and delicate self-proclaimed conservatives say that "this time she's gone too far" and predict the end of her career. The book then sells better than her last. She drives the Left into a sputtering rage, and she loves it.
I first met Coulter at the 2000 Conservative Political Action Conference (CPAC) in Washington, D.C. Following the success of her first book, "High Crimes and Misdemeanors: The Case Against Bill Clinton," Coulter was given CPAC's Conservative Journalist of the Year Award. That year she also spoke at Young America's Foundation's journalism lunch. She has remained a favorite of young conservatives for her tenacity, wit and accessibility. Like many of them, she became active in the conservative movement during her college years.
During a time when famous people brag about their difficult childhood and airing family secrets become a badge of honor, Coulter doesn't apologize for having a normal childhood in New Canaan, Conn. She says her parents, John and Nell, were "immeasurably important" in shaping her beliefs and career choices. Her father passed away in January 2008, but her mother remains active and still enjoys reading about her famous daughter.