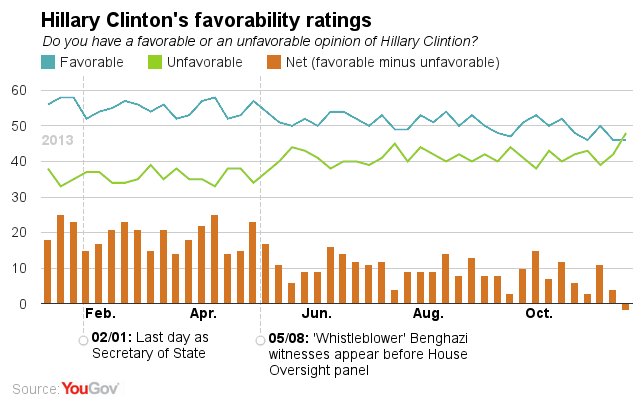 For the first time in years, more Americans find Hillary Clinton "unfavorable" than "favorable" - although she is still the clear leading potential Democratic nominee for 2016.
The change is likely due to a plethora of recent bad press around the Benghazi scandal, despite the fact that reports from The Weekly Standard, ABC News, and CBS News were later debunked and retracted.
The YouGov/Economist poll makes it obvious that public discontent with Clinton is a recent phenomenon:
During much of her tenure as Secretary of State, Clinton enjoyed generally positive ratings, ratings that continued through much of the spring following her departure from Foggy Bottom: from January through April her net favorability numbers fell below +15 only three times.

But starting around mid-May of this year, the positive feelings began to recede and the secretary's image has not recovered since, with nearly half of Americans (48%) now holding an unfavourable opinion of her, compared to 46% with a favourable one, for a net rating of -2.
Clinton's favorability decreased between January and November of this year within every demographic, including Democrats. However, a majority of Democrats, Blacks, and Hispanics still consider her favorable today: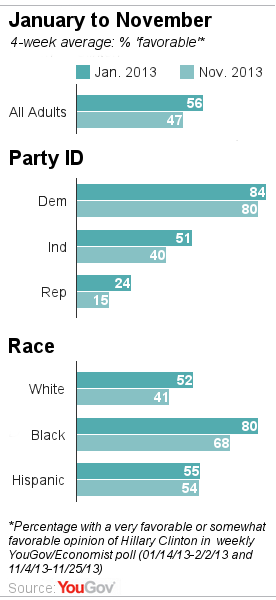 As of the end of October, 76% of Democrats supported Clinton as a presidential candidate in 2016, an even larger majority than previous polls had indicated. Yet if there is one thing the favorability poll proves, it is that the political tide can turn very quickly.
Although the latest numbers are important, they are unlikely to stay the same for long.