The National Shooting Sports Foundation has released Firearms and Ammunition Excise Tax numbers for the 2013 second quarter showing the industry is paying the most taxes in nearly a decade thanks to an increase in firearms sales. In addition, data shows tax contributions are up 23 percent for pistols, 43.3 percent for long guns and 55 percent for ammunition compared to 2012. Here are the figures from April 1, 2013 through June 30, 2013.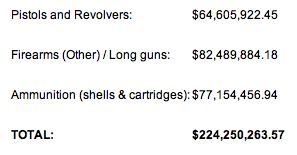 New data also shows the industry has increased its tax contributions by 332.5 percent since 2004.
<>


This particular tax was instated in 1937 through the Pittman-Robertson Federal Aid in Wildlife Restoration Act and is designated to help with state wildlife conservation. Through the purchases of firearms and ammunition by hunters and sportsman, more than $8 billion has gone to the fund, making them the largest contributors to conservation efforts.