When Congress is back in session in January, California Democrat Diane Feinstein plans to introduce legislation to ban the import, export, manufacturing, sale and transfer of what she calls "assault weapons." Feinstein didn't get into specific detail about what weapons would be affected, after all the term "assault" is a political one and the proper name for the guns Feinstein is trying to ban is "semi-automatic," which can include both handguns and rifles. Feinstein told NBC's David Gregory yesterday that ammunition clips holding more than 10 bullets would be banned should her bill become law.
"It [the bill] will ban the sale, the transfer, the transportation and the possession," the California senator said on NBC's "Meet the Press." "Not retroactively, but prospectively. And it will ban the same for big clips, drums or strips of more than 10 bullets."
Feinstein said the purpose of her proposal, a version of the assault-weapons ban that expired in 2004, is to get "weapons of war off the streets of our cities."
Meanwhile, New York City Mayor Michael Bloomberg, who enjoys armed security at all times, has been slobbering over his latest opportunity to push for more gun control since Friday and said over the weekend gun control should become President Obama's top priority.
"It's time for the president, I think, to stand up and lead," he said. "This should be his number one agenda. He's president of the United States, and if he does nothing during his second term, something like 48,000 Americans will be killed with illegal guns.

Bloomberg said most gun owners support an assault weapons ban. "The public, when you do the polls, they want to stop this carnage, and if 20 kids isn't enough to convince them I don't know what would be," he said.

Despite what Bloomberg wants the facts to be, support for the reinstatement of an assault weapons ban is at an all time low according to Gallup.
For the first time, Gallup finds greater opposition to than support for a ban on semiautomatic guns or assault rifles, 53% to 43%. In the initial asking of this question in 1996, the numbers were nearly reversed, with 57% for and 42% against an assault rifle ban. Congress passed such a ban in 1994, but the law expired when Congress did not act to renew it in 2004. Around the time the law expired, Americans were about evenly divided in their views.

Additionally, support for the broader concept of making gun laws "more strict" is at its lowest by one percentage point (43%). Forty-four percent prefer that gun laws be kept as they are now, while 11% favor less strict laws.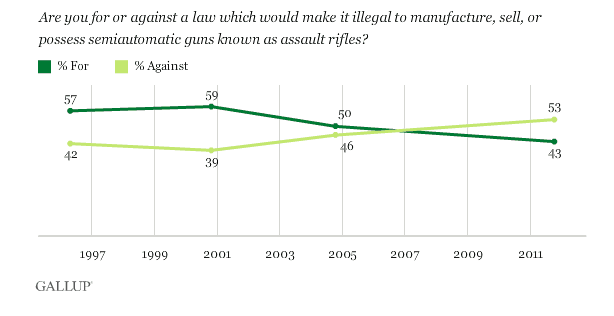 Bloomberg also said mass shootings only happen in America because we don't have enough gun control, which isn't true.
March 11, 2012: Sixteen Afghan villagers, including nine children, are killed during a predawn attack in which Army prosecutors have charged Staff Sgt. Robert Bales, 39.

July 22, 2011: Confessed mass killer Anders Behring Breivik kills 77 in Norway in twin attacks: a bombing in downtown Oslo and a shooting massacre at a youth camp outside the capital. The self-styled anti-Muslim militant admitted both attacks.

April 30, 2009: Farda Gadyrov, 29, enters the prestigious Azerbaijan State Oil Academy in the capital, Baku, armed with an automatic pistol and clips. He kills 12 people before killing himself as police close in.

Sept. 23, 2008: Matti Saari, 22, walks into a vocational college in Kauhajoki, Finland, and opens fire, killing 10 people and burning their bodies with firebombs before shooting himself fatally in the head.

Nov. 7, 2007: After revealing plans for his attack in YouTube postings, 18-year-old Pekka-Eric Auvinen fires kills eight people at his high school in Tuusula, Finland.

April 26, 2002: Robert Steinhaeuser, 19, who had been expelled from school in Erfurt, Germany, kills 13 teachers, two former classmates and policeman, before committing suicide.
President Obama implied last night at a memorial service in Connecticut for the victims of last week's rampage that he'll use his executive power to push through new gun control measures before the new Congress starts.