With politicos on all sides keeping extremely close tabs on the special election in Georgia's sixth Congressional District -- with a runoff slated for late June -- far less attention has been paid to another race for a vacant House seat in Montana, which will be decided later this month. On one hand, I can see why this contest isn't necessarily considered a high-drama race: The seat's previous occupant was Rep. Ryan Zinke, a Republican who is now President Trump's Secretary of the Interior. Zinke won comfortably in 2016, carrying just over 55 percent of the vote in the at-large, statewide race (Montana only has one Congressman).

But Montana isn't quite as ruby red as casual political observers might suspect. Voters there elected a Democratic Governor and US Senator, and John McCain barely edged out Barack Obama in Big Sky Country back in 2008. Given Montanans' partisan heterodoxy, and the fact that this is a statewide campaign, one could be forgiven for assuming that this race would (a) be getting more media attention, and (b) potentially be competitive. But the Democrats have picked a nominee who is a far-left, Bernie-loving, single-payer-supporting, banjo-playing "cowboy poet" and folk singer whose coffers have been filled with millions of dollars from progressives -- and who has previously earned income from an...unusual source. Hey, a gig's a gig, right? Props to the shameless NRCC quote in this USA Today story:
Musician Rob Quist, the Democratic candidate in Montana's at-large congressional race, performed a number of times over the years at a nudist resort in Idaho. Quist, a cowboy poet who is locally famous in his home state, was paid to perform at the Sun Meadow Resort in Idaho..."The more Rob Quist's past is laid bare, the more his claim to represent Montana values is exposed as another charade," National Republican Congressional Committee spokesman Jack Pandol said in an email. "When all is stripped away, this washed-up hippie is just a naked embarrassment to the voters he's running to represent." A photo of Quist and his daughter, Halladay, performing at the resort was featured on the resort's homepage as of Wednesday morning, but appeared to be taken down later that afternoon.
The daughter detail is a little creepy, but odd as it may be, I'm not sure voters necessarily care whether or not a candidate for office who's earned a living as a musician may have performed for naked people a few times. Quist's bigger problem could be his record on the Second Amendment -- a huge issue in the state, and one that could be used to batter Sen. Jon Tester's re-election effort, following his radical decision to join an unprecedented filibuster of a pro-gun rights Supreme Court nominee. Quist once embraced a gun registry, a stance Republicans quickly seized upon in a line of attack. The Democrat responded by cutting a Joe Manchin-style ad in which he fired a gun at a television in an effort to reinforce his "Montana values" on the issue. Oops:
In TV ads, Montana's U.S. House candidates have been blasting away at televisions, but only one is licensed to hunt anything else, according to state records. Montana Fish, Wildlife and Parks records show that Democrat Rob Quist hasn't had a hunting or fishing license for at least 16 years. Electronic records of hunting and fishing licenses begin in 2002. Republican Greg Gianforte has had multiple fishing and hunting licenses during the same period. "An outdoor way of life, particularly hunting and fishing, is part of who we are," Gianforte said. "I believe it's an individual's personal choice whether they want to hunt or fish, but I think most of them would want to have a representative that understands their lifestyle." ... Hunting and fishing are make-or-break issues for a key minority group of Montana voters.
Republicans are circulating a document that appears to confirm that the left-winger who's trying to pose as Yosemite Sam for political expedience hasn't actually sought hunting or fishing licenses since at least 2002, when the state's electronic records first started to be archived: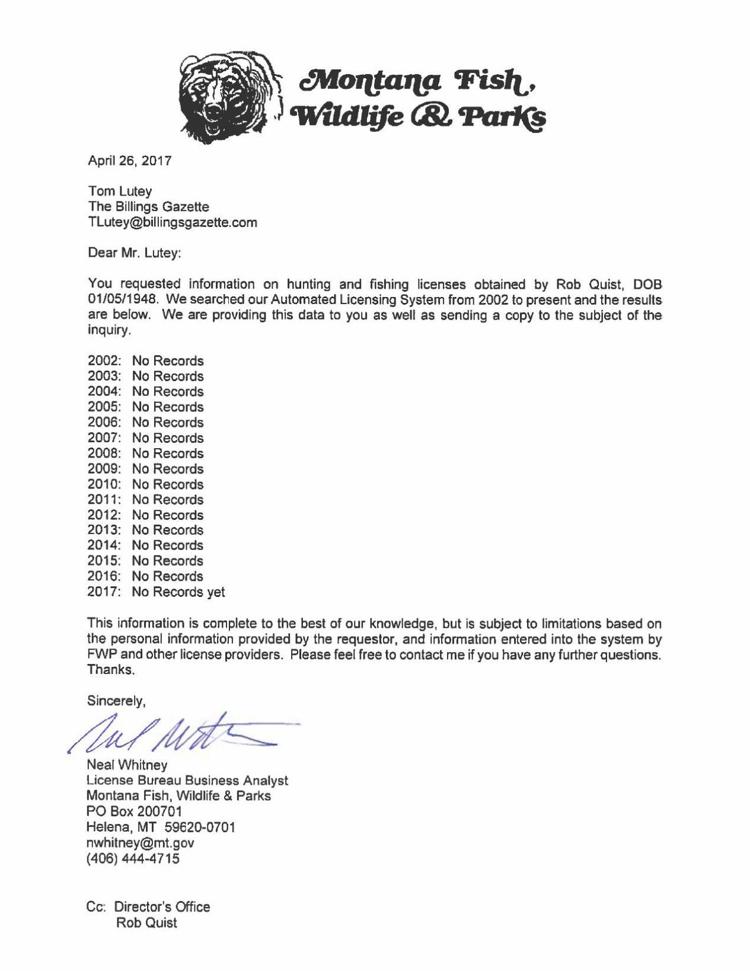 Democrats may have the political wind at their backs in terms of national enthusiasm and intensity -- and some anxious Republicans are undoubtedly keeping an eye on the president's approval rating -- but a recent poll of the race points to a status quo outcome:
Poll: Republican Leads Democrat by 15 Points in Montana House Race https://t.co/Zp6SHI9cQ9 pic.twitter.com/h9MDAJV25K

— Free Beacon (@FreeBeacon) April 27, 2017

Another April survey pegged the gap at 12 points. That is not to say that Democrats have no chance to win this May 25 special election, but public opinion data suggests that The Resistance doesn't appear to be in great shape to prevail out in Montana.