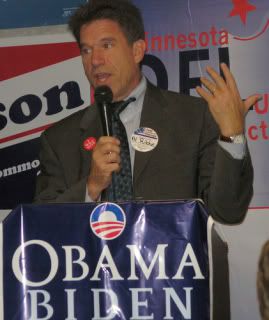 Minnesota Secretary of State Mark Ritchie speaking at a fundraiser for the Democratic-Farmer-Laborer Party a month before he was tasked with overseeing the recount between incumbent Republican Sen. Norm Coleman and Al Franken.

The man overseeing Minnesota's contentious recount between incumbent Republican Sen. Norm Coleman and comedian turned candidate Al Franken is a known Democratic cheerleader with ties to far-left organizations including ACORN and the Communist Party of the USA.


Secretary of State Mark Ritchie has not carried out his role in the traditionally non-partisan manner expected of the office by contributing money to the Minnesota Democratic Farmer Laborer Party and speaking with press at the Democratic National Convention about "ways Democrats can sway rural voters."

Most alarmingly, officials from ACORN and the Communist Party of the USA endorsed his candidacy for Secretary of State. Ritchie even highlighted ACORN's endorsement on his campaign website.


Ritchie once worked as a leader of a coalition group that coordinated with ACORN in 2004. As Executive Director of the National Voice, Ritchie worked with a slew of left-wing get-out-the-vote organizations like ACORN and the People for the American Way under the umbrella group "The November 2 Project."

Today, ACORN is being investigated for fraudulent activities in Ritchie's state among several others. The group is accused of failing to turn in registrations within the required 10-day period in Hennepin and Ramsey County.

The Communist Party of the USA wrote on their website that Ritchie "could play a valuable national role" in protecting voter rights, as opposed to the roles Republican Secretaries of State Katharine Harris of Florida and Ken Blackwell of Ohio served in previous elections.

The hard-hitting Minnesota-based blog "Minnesota Democrats Exposed" has consistently criticized Ritchie for his liberal bent. The blog published a photo (above) of Ritchie standing speaking in front of a podium with an "Obama-Biden" sign at a Democratic Farm Labor Party fundraiser in October. Blogger Michael B. Brodkorb contrasted it with statements from his office claiming non-partisanship from his office weeks before Election Day.

The Minnesota Star Tribune is giving Republican Senator Coleman a narrow 239-edge over Democrat Franken. The race was originally called by the AP for Coleman, but his winning margin was so slim Minnesota law required a recount.

Update: I'm not the only one on this. Matthew Vadum has more details on Ritchie up HERE.