I've been offline and out of politics for a couple days, hanging out with my family in Virginia and North Carolina. It's a beautiful place, outside the Beltway, where reactions to the Republican debate last night range from "eh" to "they're already having debates?" to "as long as we can beat Hillary..."

I missed the Values Voters Summit on Saturday because I needed to be with my family to celebrate my grandma's 85th birthday. It was a great time. About 50 folks from all sides of the family came together to honor the woman who ties us all together. It was a blessing to see fellow grandkids and distant cousins we hadn't seen in years. We made and decorated a cupcake for each year of her life-- one bore a tobacco leaf for the year she and her husband tried tobacco farming; one had a lunch pail for her first day of school; an American flag for her work at the USO and in the Navy; and, each grandkid's birth year was marked (and there are plenty!).

We held the party at an old house we call The Cumby Place (I'm not sure why. I think the family who owned it before us might have been the Cumbys.), out in the fields of my aunt and uncle's farmland. It's got running water and electricity, but not much else, and the family uses it as a hunting club during the season.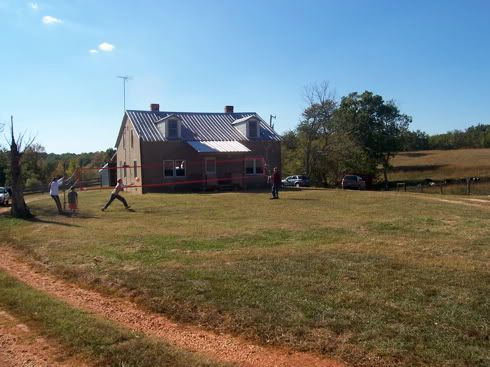 I played volleyball with my younger cousins out front while my little brother (on the opposite team) talked junk about my form. So, that's what I was doing while politics moved on...

Sounds like Rudy was as good as could possibly be expected for the Values Voters. I never doubted they would greet him politely, even enthusiastically. Once you get out of the immediate circle of the Dobsonite third-party folks, you'll find that almost all evangelicals express immense respect for "Mayor Giuliani," as I usually hear him called, before politely pondering whether some of his views allow them to vote for him. I run in a few evangelical circles and have heard praise-- though sometimes qualified-- much more often than criticism.

N.Z. Bear had quotes from Rudy's speech and it sounded like it hit just the right notes, even evoking enthusiastic applause at places. As I've said before, Rudy has an uncanny ability to exude respect for values voters even while disagreeing with them sharply on very important issues. That's part of what's kept him up top in national polls this long, I think, and if he ever loses it, he's dead in the water with these folks.

Unsurprisingly, Mitt took the top in the straw poll. The Romney campaign had a strong contingent on hand at the conference Friday and, as Justin Hart notes, the campaign has been methodical and effective in its courting of evangelical endorsements. There's also no doubt that, while not always electrifying, Mitt comes off polished and extremely knowledgeable in appearances.

Huckabee finished second-- a testament to his fabulous public-speaking skills and true passion about the issues these voters care about. He's a great communicator, and it's a speech I would have liked to have seen live. His star is rising but I, like Erick Erickson, am worried about a guy so charming carrying the conservative mantle, and also carrying a torch for nanny-statism in his heart. It doesn't sit well. Fred's third-place finish has gotta be a disappointment, and was undoubtedly brought on by Huckabee's Saturday-morning performance.

As for the debate, McCain had the line of the night, Fred sounds like he revved it up a bit, but could stand a little more, and Rudy and Huckabee shined, as usual. Oh, and what's with the Fred campaign live-blogging in Spanish? Show-offs. Does that about sum it up? A good debate wrap-up, with special praise for Fred, here.

And, is Bobby Jindal a ray of sunshine or what? Perfect for getting you out of your pre-election year funk if you're a GOP pessimist, as most of us are these days. I'm putting a HamNation together today (shot it this weekend with my family's help), so it can run later in the week, and then I'm taking the week to go visit my other brother in Arizona and just relax. I may check in now and then, but I'll be mostly non-bloggy.


A parting shot. This is me at The Cumby Place with a giant fly-swatter, which my little cousin claims is for bopping mice and rats that run across the floor, but I can't tell if he's yanking my chain. At any rate, nuthin' says festive like a giant rat-swatter, so I took a picture.