The ceremony this morning featured a moving speech by Rep. Tom Lantos, a survivor of both the Holocaust and communism, who is now Chairman of the House Foreign Affairs Committee.
The President spoke as well, but these pictures don't include him or Lantos because I was videotaping them instead of taking pictures. I find it's very hard to do both. Ha. I'll have the video up later, but here's a look at the memorial, 18 years in the making and situated on the corner of New Jersey Ave., NW and Massachusetts Ave., NW on Capitol Hill.
Asian media was there in full force-- Vietnamese, Taiwanese, Japanese.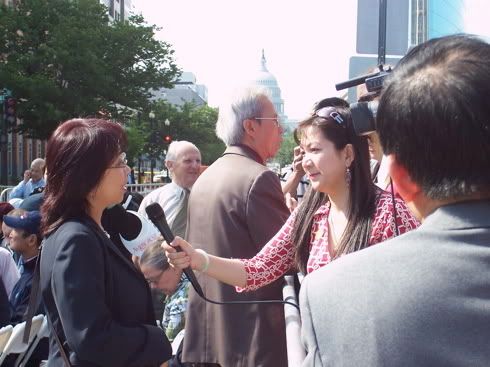 The memorial is situated just blocks from the Capitol.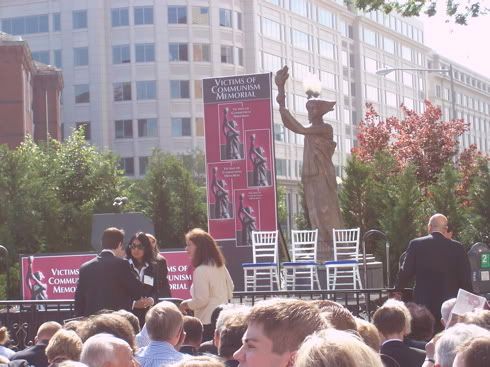 The statue and stage from afar. This is the kind of view you get with a White House Press Pool pass. Oh yeah. I'm kidding. I saw and heard fine.

A member of the band packing up after the Pres left.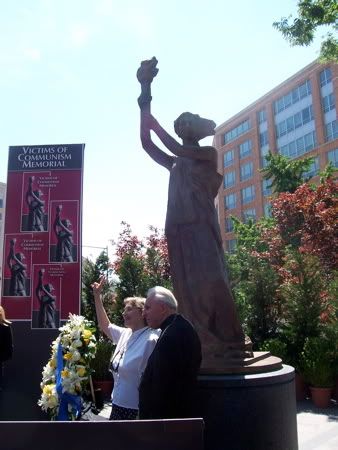 People pose with the memorial and the a wreath laid at its feet to commemorate the countless victims.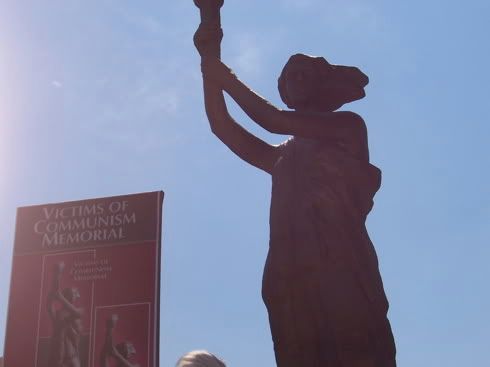 A symbol of freedom and the human spirit burning, even through tyranny.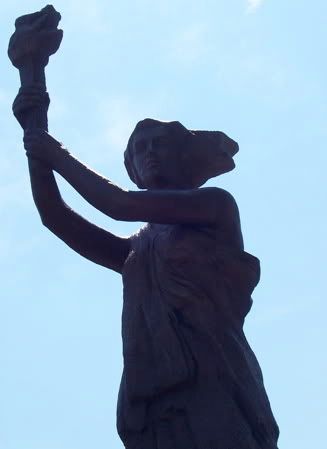 "We dedicate this memorial because we have an obligation to thosewho died, to acknowledge their lives and honor their memory. The Czechwriter Milan Kundera once described the struggle against Communism as"the struggle of memory against forgetting." Communist regimes did morethan take their victims' lives; they sought to steal their humanity anderase their memory. With this memorial, we restore their humanity andwe reclaim their memory. With this memorial, we say of Communism'sinnocent and anonymous victims, these men and women lived and they shallnot be forgotten." -- George W. Bush, June 12, 2007