Update: Welcome Malkin-readers and thanks for any help you can give! Just click here and search "Ham" to donate via PayPal if you want to skip my rambling about how great the kids I work with are. If you don't want to skip it, read on, by all means! And, thank you!

I will be putting my butt on a bicycle seat every day this week in order to ride 100 miles, so that you guys will consider my feat of exercise worthy enough to toss me a few bucks.
Why? Because I'm a Young Life leader with a bunch of high-school girls who would LOVE to go to Young Life camp this summer at Lake Champion for a week. But they're gonna need some money (scroll down for instructions on donating).
I took a cabin of nine girls last summer, which required a week's vacation and the patience of Job, but we had a fabulous time. Most of my girls don't make it out of the city much, so the stars on a country night were new to them. All nine of us labored through a mountainside obstacle course in the driving rain, at 11 p.m. on opening night. Standing at the bottom of the rain-soaked mud-mountain we were supposed to climb, half of them didn't think they'd make it. But they did, and they continued to surprise themselves and me for the rest of the week.
A rival cabin locked us out of our rooms, and two of my girls who are cheerleaders took it upon themselves to grab Arianna (the flyer), and put her 10 feet in the air, at which point she climbed through the window and let the rest of us in. I believe their retaliation included a toad, but I prefer to maintain plausible deniability on that count.
We did a 3-mile mountain-biking trail, and everyone sailed through it like they'd been mountain-biking for years. All was well until right after the ride, when putting my bike away, I felt a searing pain in my right ankle. I looked down to find, not one, not two, but three yellow-jackets working to remove their business ends from my Achilles. You know, camp stuff.
Truly one of the greatest weeks of my life, and I know it was one of theirs, as well. They are vibrant, rough-and-tumble, sometimes loud, always tough, and nearly always fun. They're the kind of teenagers that it's hard to get to know, and I feel privileged to have done just that.
It is these trips to camp that bring us closer, that allow them to open up to me about their families, faith, and fears (and, trust me, they sometimes really need an adult to just talk to). I cannot thank enough all the donors that made it possible for us to go last year, and spend a week in the Virginia mountains, away from the city, its smog, and its stresses. I hope y'all will consider helping me out this year.
I'm riding 100 miles. Feel free to sponsor me for whatever amount you think is appropriate. Every little bit helps.
How can you help?

Click here and search for "Ham." After that, it's as easy as a PayPal donation. (Make sure you search my name before donating, so that I can brag about how great my readers are later, ha ha.)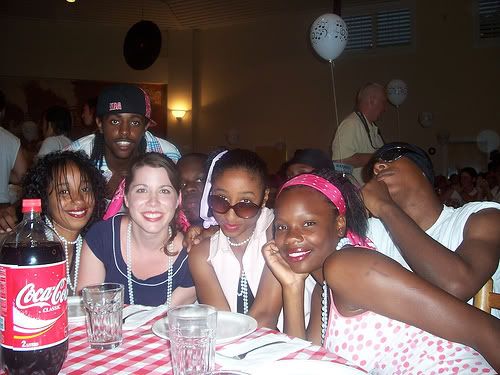 They're adorable. How can you resist? Click here for a slideshow of last year's trip.


Thanks in advance for any help you can give us!