Before we delve into Bloomberg's fresh numbers, let's acknowledge that this polling series has been outlier before (remember this one from 2012?), and appears to be one here, too. No other public polling has shown Hillary up double-digits since April, but this one shows her ahead by 12 points among likely voters. That being said, this is the ninth consecutive national survey giving her the lead, and the fourth in a row pegging Trump's support in the 30's. For a guy who thrives on an All I Do Is Win narrative, this isn't good:
Trump's current share in RCP, at 38.6% is a tie for his lowest % since August 2015. pic.twitter.com/EApJIa7RUP

— Will Jordan (@williamjordann) June 14, 2016
The poll contains a few bright spots for the presumptive GOP nominee, such an narrow edge on handling terrorism; plus, Obama's approval and favorability both declined post-Orlando, while this survey was still in the field. But its findings are generally pretty ugly across the board for Team Trump. Fully 63 percent of women say they could never vote for Trump, with a similar number of voters under 35 saying the same. Overall, a 55 percent majority of respondents foreswears the possibility of supporting Trump. Clinton commands 57 percent of the female vote, and more than three-quarters of non-whites. While the Democratic nominee-in-waiting has major flaws that bother large segments of the electorate, Trump's vulnerabilities are more severe, including his treatment of women and his terrible race-baiting against the Trump University fraud case judge:
Bloomberg poll (LV's):

- 55% bothered by Trump's racial attacks on judge

- 62% by insults vs. women

- 45% by Trump U, hidden tax returns

— Guy Benson (@guypbenson) June 14, 2016
(Alleged) Libertarian (really?) Gary Johnson pulls nine percent in this poll, but it'd be wrong to assume that he's disproportionately drawing support from those who'd otherwise support Trump:
Gap between Clinton and Trump is pretty consistently smaller when ex-Republican Gary Johnson is included, not bigger.

— Jim Antle (@jimantle) June 14, 2016
I'll leave you with this data point from the poll: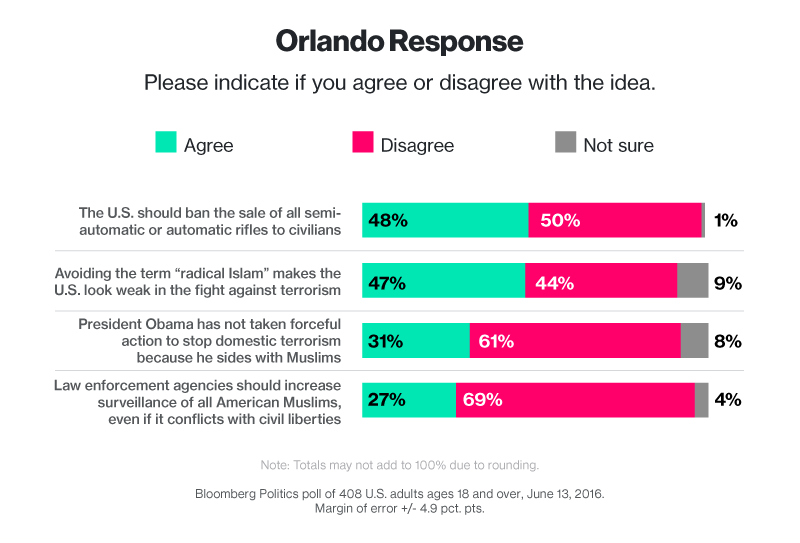 Despite a drumbeat of propaganda and demagoguery from the Left and the media, a majority of Americans reject a ban on "semi-automatic or automatic rifles" as a response to the Pulse nightclub attack. That outcome comes despite the fact that automatic rifles are already broadly illegal for public purchase in America. A plurality also agrees that a refusal to name the enemy telegraphs weakness. A large majority disagrees that Obama "sides with Muslims" on the terrorism front, repudiating recent conspiratorial innuendo from Trump, and nearly seven-in-ten oppose stepped-up surveillance of Muslims that discards civil liberty protections. Before you go, be sure to read Sean Davis' caustic but information-packed essay on why "assault rifle" bans aren't productive.