Editor's Note: This piece originally appeared as the cover story of the August 2009 issue of Townhall Magazine. Click here to subscribe and get a free copy of Michelle Malkin's new book, "Culture of Corruption."
In the parallel universe occupied by many left-of-center Americans, the increasingly controversial Association of Community Organizations for Reform Now (ACORN) is a high-minded poor people's group similar to crusading civil rights groups of the 1960s.
They believe ACORN is a public-spirited organization that registers the poor to vote and encourages citizen involvement in morally uplifting projects and community development. They believe it spurs production of affordable housing, protects tenants' rights, keeps unjustly exploited borrowers in their homes and rages against predatory lenders. They believe it fights for the rights of workers, immigrants and utility ratepayers.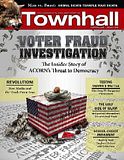 But it does so much more.
When the extortion and vote-fraud conglomerate ACORN isn't busing schoolchildren to the nation's capital to protest proposed tax cuts, it's busy campaigning to expand the size and scope of government, raising the dead from cemeteries and leading them to the voting booth, and promoting the so-called Fairness Doctrine in order to bludgeon conservative-dominated talk radio.
Although congressional Democrats refuse to investigate ACORN, so far this year alone voter registration fraud charges have been laid against former ACORN employees in Nevada and Pennsylvania. Nevada charges were laid against two former senior ACORN executives and against the nonprofit entity itself.
ACORN is also under investigation in Cuyahoga County, Ohio, after a man who was registered to vote multiple times by ACORN was indicted in June by a grand jury for fraudulent voting. This is significant because ACORN has long claimed that the illegal casting of ballots is a myth. The Ohio prosecutor continues to probe ACORN.
ACORN frequently claims to be a victim of GOP persecution but that lie won't work this time: All of the officials laying charges in the three states are Democrats. ACORN also loudly proclaims its nonpartisan status, but that's nonsense. ACORN works for and endorses only Democrats. During last year's primaries, the Obama campaign paid $832,598 to Citizens Services Inc., an ACORN affiliate, for get-out-the-vote work.