The D.C. Abortion Fund (DCAF) is giving a coat hanger pendant for each new donation of $10 or more per month to pay for low-income women's abortions in the D.C., Maryland and Virginia area as a "token of [their] appreciation," in case you wanted a macabre reminder of your direct contribution to the killing of innocent babies. The pendant is based on their logo.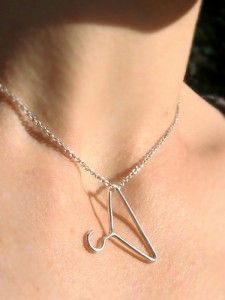 According to their 2013 Annual Report, of the 758 individuals who were offered grants to help pay for a portion of their abortion procedures, 546 (72 percent) were African-American women. Abortion is hitting the African-American community hard. A Guttmacher Institute report revealed that in the U.S., black children are aborted at nearly four times the rate of white children. Recently, the NYC Department of Health and Mental Hygiene released a pregnancy statistics report for 2012 showing that abortions outnumber live births in the black community in NYC: 31,328 abortions to 24,758 live births. In the District of Columbia, 41 percent of pregnancies end in abortion, which is twice the national average.
DCAF pledged $164,168 on behalf of 758 pregnant women. Of those offered grants, 598 women used their pledges and received funding, totaling $132,525 in DCAF grants paid out. The average grant was $222 per woman. DCAF grew its base of women receiving abortion funds by 31 percent from 2012. Of the pledges made in 2013 by DCAF, 289 were for first trimester abortions, 410 were for second trimester abortions, and 59 were for abortions past 24 weeks.