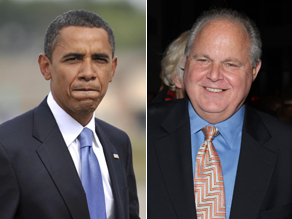 Some of the best reporting this cycle has come from Politico's
Jonathan Martin
and ABC's
Jake Tapper
. Yesterday, when
Barack Obama
launched a new Spanish ad attacking
John McCain
(and attempting to tie him to
Rush Limbaugh
) -- both reporters quickly caught the mischaracterizations.
As Tapper writes
:
"First of all, tying Sen. McCain – especially on the issue of immigration reform – to Limbaugh is unfair.

Limbaugh opposed McCain on that issue. Vociferously. And in a larger sense, it's unfair to link McCain to Limbaugh on a host of issues since Limbaugh, as any even occasional listener of his knows, doesn't particularly care for McCain.

Second, the quotes of Limbaugh's are out of context."
Maybe Obama thought he could get away with it because the ad is in Spanish?