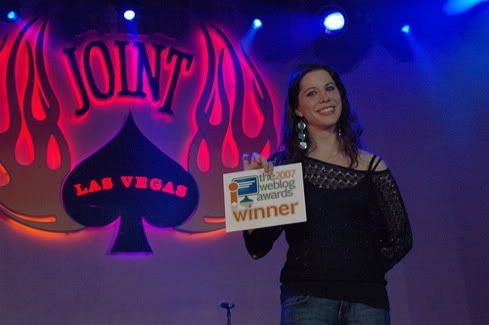 I win! (More pics from the party at the Flickr link.)



Hey, here are some quick interviews I did at the Blog World Expo. We've got Hugh Hewitt, Glenn Reynolds, Dean Barnett, John Hinderacker, Eric Egland and more...




If you want the really real dirt on what went down, though, you'll have to check in with Uncle Jimbo, who has the classified report, in which Katie must sedate me because I'm freaking out about something or other:

Boy sometimes the pressure just gets to people, fortunately Katie Favazza was nearby and hit her with a dart from a tranq gun.
Stephen Green joined us on our last night out in Vegas, looking as dapper as his pictures, and he and Favazza came upon the strangest coincidence:

I'm especially indebted to Matt for introducing me to Katie Favazza, also from Townhall. Katie's from my old home town, St Louis, and her father owns Favazza's Restaurant on The Hill. Maybe you've heard of it. Well, I have -- my grandfather and his old management crew at Southwest Steel used to eat there for lunch almost every day of the week. A flood of memories came back, all of them good, and added that little something extra special to a fine night spent swapping tall tales with some really smart, talented, and involved people.
The Teflon Don was there, too, whose blog I've enjoyed for a long time. Glad to see him home safe and hangin' with the milbloggers. He led a toast to absent companions, and at some point, someone threw down a challenge coin. Hey, that's what happens when you party with milbloggers:

We weren't long into the night before someone (Uncle Jimbo, if my memory serves) clumsily opened a wallet and "accidently" dropped a challenge coin ringing to the table. T Boggs and I dropped ours, and Major Z followed immediately with his own, and the words "Anyone beat me having one made just for me?". BLACKFIVE's response glittered blue and white on the tabletop- the Seal of the President of the United States.
Boggs did better than most of us and actually took the time to attend Mark Cuban's keynote address and write about it before hopping to the bar. He's a shining example to us all. Cuban spoke about "Redacted," the anti-troop film he's produced, and is lucky there weren't more milbloggers there while he spoke:

The movie was financed by a company of Cuban's and is thus directly supported by Cuban. Cuban described the movie in his speech at Blogworld by saying "Soldiers are bored 99% of the time, this film is about what they do with the other 1%."

That statement taken to its logical conclusion means that the only time soldiers aren't bored is when they are raping and murdering. What a guy that Mark Cuban is, a real winner. Now I am not going to call him an idiot because it takes a lot of smarts to become a billionaire, although I will say that I think he is slightly ill informed.
I got to meet Michael Goldfarb of teaching-The-New-Republic-what-journalism-is fame, which was a treat. And, as a treat for you, Goldfarb has a round-up of the hot chicks at the trade show.

Army Wife Todder Mom and Sarah stalked Glenn Reynolds...with success!

Speaking of Instapundit, judging by the view numbers on this, I should get him to shoot all my HamNations.

And, Andi at Spousebuzz marked a milestone while in Vegas.

Michael Totten was good enough to drop by for drinks before departing for another trip overseas-- this time to Fallujah. Bill Roggio was there, too, so the two of them ensured that foreign policy conversation remained cerebral and intelligent despite the presence of myself and Uncle Jimbo. Har. Seriously, though, if you ever get a chance to sit around and listen to those two, take it.

Ali Eteraz was there, whom you may know from Dean's World, rounding out our ideological diversity with some leftishness. (His politics aren't terribly peggable, so I hope leftish is sort of fair.)

Matt at Blackfive let Jimbo handle the write-up of the event, but I'm pretty sure Matt handled most of the tab, so much, much, much applause for that guy. Woot!

I was glad to see Townhall blogger Steve on site, and hope to see a bunch more of our readers at the event next year!

Maj. Eric Egland was there, too-- a veteran and real man of the blogs, he's running for Congress in California against Republican incumbent John Doolittle, whose been tainted by scandal and reversed course on the war. Egland's running a net-centric campaign and it's paid off so far, giving him more cash on hand than an incumbent. Help him out at his site if you can.

That may be all I can tell you without divulging anything top secret and/or embarrassing. You know what they say about Vegas...it

stays

. It was a pleasure to see everyone. Anyone who I saw and didn't link, I apologize. Feel free to send along a write-up. I met a bunch of great folks, learned a bunch of nerdy things, and hope to see all of you there next year. Plan for it. Same place, September of next year. It oughtta be fun.