My pictures are a little heavy on the Truthers because that's who I was interviewing and filming for HamNation. I thought I'd be able to get more pictures later of real, normal people observing the day in a respectful way, but my dang camera went all malfunction on me.

We got plenty of good footage, though, of both normal people and Truthers, so that will be upcoming.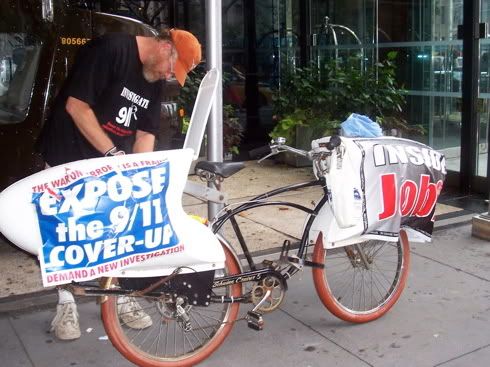 This guy was fitting his super-cool Schwinn with new posters, as these had gotten soggy on a rainy 9/11.



"Move right along. Nothing to see here. No national tragedy of epic proportions perpetrated by 19 radical Islamist hijackers. Nope."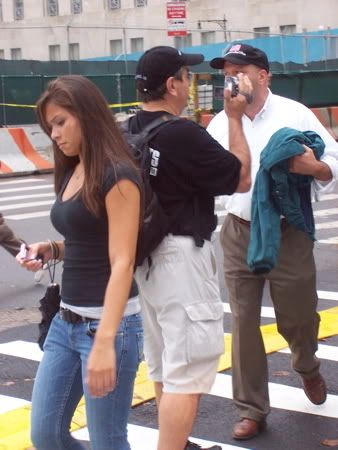 A Truther videotapes a normal person telling him he's a "disgrace" for being at Ground Zero on 9/11 (bonus hot girl in foreground because I know my audience).



A Truther co-ed proves that art degree was worth something. Take that, Dad!



It was disturbing how many people were stopping to listen to the Truthers, many passersby taking in all the conspiracy theories and nodding along. I stopped and talked with this guy and his fellow evangelists. I pointed out where their theories were contradicted by the actual facts, so that at least the people listening to them would hear the other side. These Truthers were calm. Not so with others we encountered.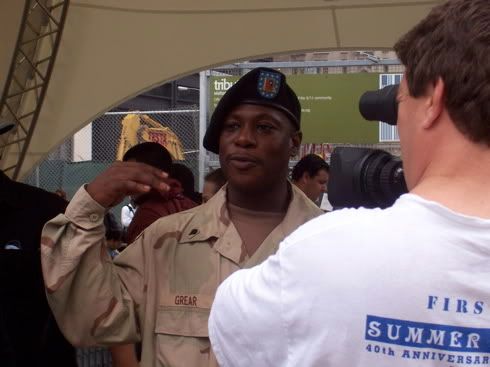 A soldier who had been to Iraq spoke about his service to all comers, elaborating on the brutality of our radical enemy for those who haven't seen it first-hand.


A mourner.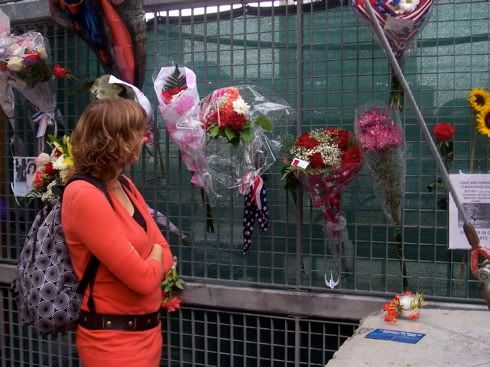 Many laid flowers, candles, lit incense for lost loved ones. The crowd of people walking the memorial fence that encloses the area was dense and constant and eerily quiet.



The face of "Truth." Also, incidentally, the face of a Ron Paul supporter I interviewed in Dallas last week. Ubiquitous, she is. Her name is Debbie, if I remember correctly. Betting she doesn't have much of a real job.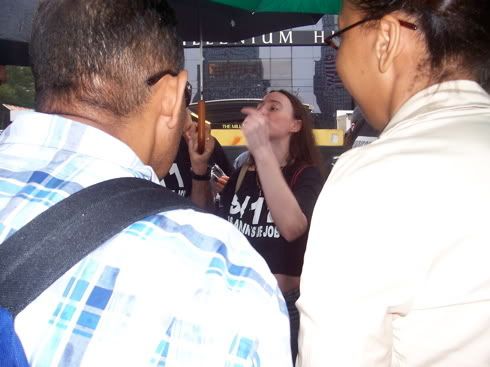 When the "Truth" requires aggressive gesticulation, Debbie delivers.



The enthusiastically eyelinered boy on the right of this picture was extra obnoxious. Most of the Truthers spoke in quiet-to-slightly-raised tones with people or silently held signs. This guy yelled into the crowds of commuters and mourners: "If you believe the official story, you're in psychological denial! You're sheep! You are sheep!"

His outbursts drew the ire of one burly guy who told him to shove it, explained with a generous helping of four-letter-words that he had lost numerous firefighter friends in the towers, and that he didn't think much of his conspiracy theories. There were several such altercations, but they were short, the normal people pretty much preferring to ignore the Truthers or shout their disapproval while walking by.

We got rid of our Real Truth flyers pretty quickly, handing out a whole box within an hour and getting lots of thumbs-up and thanks from people when they realized what we were doing.

It was moving to be at Ground Zero on this day. It's the first time I've been in NYC on 9/11. God bless each and every one who lost his life there.