There has been a shooting at the conservative Christian Family Research Council in Washington D.C. Information about what happened is still coming in. Here is what we know so far.
-One security guard was shot and survived, he is now at the hospital receiving treatment.
-The suspect walked into the FRC office, mumbled some words about disagreeing with FRC's beliefs and opened fire
UPDATE I: FRC President Tony Perkins has released a statement.
"The police are investigating this incident. Our first concern is with our colleague who was shot today. Our concern is for him and his family."
From @nathanwurtzel on Twitter:
Channel 7 in DC (WJLA) reporter on scene says FBI has taken over investigation, area being checked for bombs, suspect in custody.
UPDATE II: ATF is on the scene and has sent a bomb squad into the building. The incident is being treated as a case of domestic terrorism. The security guard who was shot reportedly wrestled the suspect to the ground.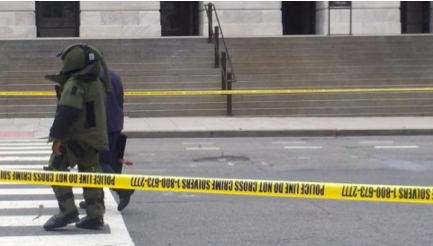 UPDATE III: The suspect was also shot.
Since 1983, Family Research Council (FRC) has advanced faith, family and freedom in public policy and public opinion. FRC's team of seasoned experts promotes these core values through policy research, public education on Capitol Hill and in the media, and grassroots mobilization. We review legislation, meet with policymakers, publish books and pamphlets, build coalitions, testify before Congress, and maintain a powerful presence in print and broadcast media. Through our outreach to pastors, we equip churches to transform the culture.

Strategically located in Washington, D.C., FRC is the leading voice for the family in our nation's halls of power. FRC is a 501(c)(3) non-profit organization.
UPDATE IV: According to Fox News, the suspect was reportedly carrying a Chick-Fil-A bag.
Sources also said the gunman may have been carrying a bag from Chick-fil-A, the embattled fast-food restaurant whose president came under fire from gay activists after he said he did not agree with same-sex marriage.

UPDATE V: Mitt Romney responds to the shooting.
"I am appalled by the shooting today at the offices of the Family Research Council in our nation's capital. There is no place for such violence in our society. My prayers go out to the wounded security guard and his family, as well as all the people at the Family Research Council whose sense of security has been shattered by today's horrific events."