My front page story today (now updated!) revisits my pre-election prediction that Republicans would win important victories across the eight-state Midwestern region that currently comprises "Big Ten Country." I'd submit that voters vindicated my projections; these states proved to be the epicenter of last Tuesday's GOP earthquake. Below is a graphic illustration of how strongly this region swung from 2008 to 2010.

The 2008 Congressional Map in Big Ten Country: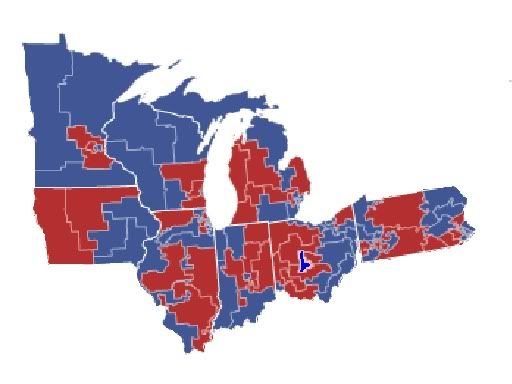 The 2010 Congressional map in Big Ten Country:




Final 2010 Big Ten Scoreboard:

Senate: GOP plus 4
Governor: GOP plus 5*
House: GOP plus 20*

What a difference two years can make.


*Minnesota's Governor race remains undetermined, with the Democrat ahead.
**IL-08 is also undecided, with the Republican leading.