Remember, a Pew Research Center survey conducted last year showed that the preponderance of respondents -- including more than half of all Democrats -- wanted the Keystone Pipeline completed. And more recently, as Christine reported last week, the U.S. State Department's own internal study concluded that building it would not "greatly increase" carbon emissions or "greatly worsen" climate change. Granted, this is just one government study, but considering the fact that the president did say he would not approve the pipeline if it "significantly exacerbate[s] the problem of carbon pollution," it seems his list of grievances with the project is growing shorter by the day: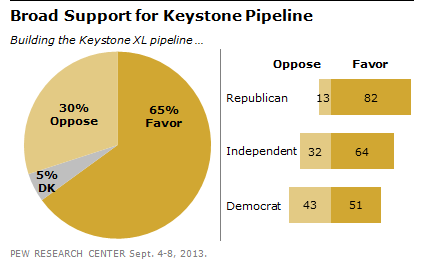 The president and his Democratic allies in Congress have not seen eye to eye on this issue. In truth, Pew called the debate raging over Keystone "perhaps the most politically contentious energy issue in Barack Obama's second term." Even Ed Schultz isn't on board with the White House. From Hot Air:
I believe Schultz's argument in favor of building the pipeline is two-fold: One, the United States runs on oil. It drives our economy. And even though "climate change" does exist, he concedes, "we're not getting out of the oil business" any time soon. Two, building the pipeline "makes sense" in part because it's safer than continuing to use old and obsolete rail cars to transport oil across large tracts of land. Indeed, that same State Department report noted above concluded that without building Keystone, on average, the rail-related death toll in this country could rise by six every year. That's not an argument in favor of building the Keystone XL pipeline in and of itself, of course, but it certainly puts additional pressure on the White House to finally approve the measure. So we'll wait and see if the study meaningfully tips the scale in supporters' favor.
The president is expected to announce his decision sometime before the 2014 midterm elections.