When a crisis strikes, every politician reacts differently. Some meet the challenge head on and deal with the consequences; others, of course, do not. On Thursday, CompleteColorado.com reported that Senator Mark Udall (D-CO) -- who, coincidentally, is up for re-election in 2014 -- pressed the Colorado Division of Insurance last November to either review the number of cancelled policies in the state, or water-down what the word "cancellation" means. The end-goal was to make it seem as if the total number of citizens who lost their health insurance in Colorado was lower than reported.
Remember, the president's promise -- "if you like your health care plan, you can keep it" -- was the Lie of the Year in 2013, and oodles of incumbent Democrats parroted it ad nauseam. So, naturally, when it became abundantly clear that hundreds of thousands of Coloradoans would, in fact, not be able to keep their health care plans -- despite what Udall had told them -- the senator's loyal staffers seemingly panicked and took matters into their own hands. Mediaite explains:
According to emails obtained by Complete Colorado, the Colorado Division of Insurance (DOI), Director of External Affairs, Jo Donlin, said that she "received a very hostile phone call from Udall's deputy chief of staff" relating to the politically damaging number of cancellation notices.

"Sen. Udall says our numbers were wrong," Donlin wrote to her colleagues at the Colorado Department of Regulatory Agencies. "They are not wrong."
Here is a reprinted copy of the redacted email (via CompleteColorado.com):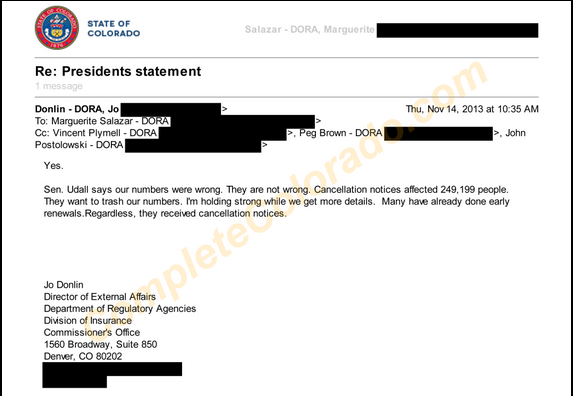 Devastating. Here we have a U.S. Senate office caught red-handed engaging in the politics of intimidation and coercion. How many voters, if they only knew about this story, would be inclined to support Senator Udall in the next election cycle? Hmmm.