The president's average monthly approval rating dropped 11 points over the course of 2013. Ouch.
This was, of course, somewhat unexpected. Why? Because the year began auspiciously for him. Remember, he had just defeated Mitt Romney in the presidential contest, thus securing his second and final term as commander in chief. He would never again have to face voters. This, in turn, earned him a "mandate" (or so he presumed), to do as he pleased legislatively; and what's more, his approval ratings were in the low 50s. However, over time, the flawed legislation he pursued, the scandals, the lies, and the fallout from the Obamacare roll-out took a heavy toll on him and his presidency. So here we are: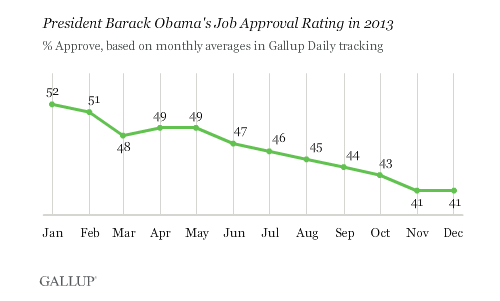 What a difference 12 months makes, huh? It'll be interesting to see what happens in the new year.