A number of new polls are making headlines today in the early GOP voting states of Iowa, New Hampshire, and South Carolina. The Republican candidates -- who will face off tonight in the Bloomberg-Washington Post-WBIN-TV debate at Dartmouth College in Hanover, New Hampshire -- are looking to rally support and court voters less than three months before the tentatively scheduled Iowa Caucus on January 3, 2012. Here are the results:
Iowa: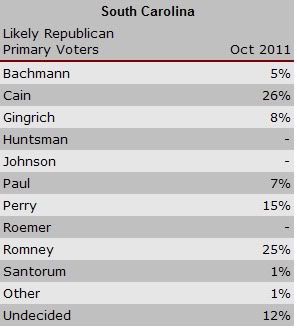 After reviewing the survey, the Iowa State Caucus looks to be the most hotly contested Republican race in 2012. While Mitt Romney and Herman Cain appear to have significantly distanced themselves from the pack, it's worth noting that only 41% of likely caucus goers are resolutely committed to their candidate. In other words, fundraising, presence on the ground, and the upcoming GOP debates are some, albeit not all, of the factors that will significantly determine the outcome of the election. As expected, the Iowa Caucus, which has historically been critical in deciding U.S. presidents, will play a crucial role in 2012.
Meanwhile in New Hampshire, Mitt Romney continues to establish himself as the top candidate. His 33% lead over Herman Cain and Ron Paul – who both tied for second – solidifies him as a Granite State favorite, especially after receiving 56% of the vote amongst Independents. Governor Romney, however, does have a slight advantage considering he owns a vacation home near the shores of Lake Winnipesaukee and strategically launched his bid for the White House in Stratham, N.H last summer. But more importantly, according to the poll, voters in New Hampshire are discernibly dissatisfied with Barack Obama's handling of the economy. Only 38% of registered voters view him favorably, which is one possible explanation why Mitt Romney, a successful businessman, is soaring in the polls. The former CEO of Bain Capital, in short, remains the perennial frontrunner – and since nearly half of registered voters in New Hampshire trust he is the right candidate to oust President Obama – Mitt Romney, by all estimations, is the favorite to win the first-in-the-nation primary early next year.
In South Carolina, as in Iowa, Mitt Romney and Herman Cain are tied neck-and-neck. While not unsurprising, Governor Rick Perry, who garnered 15% of the vote in the American Research Group poll, is failing to resonate with Tea Party voters. This trend, in part, is probably attributed to his decision as governor of Texas to grant in-state tuition to illegal immigrants, a policy that has embittered Republicans across the nation. Nonetheless, what's interesting to note about this particular survey is not that Herman Cain leads his GOP rivals – or how, against all odds, he has emerged as a top tier contender – but the surprising celerity with which he has risen to stardom. In April, for example, Cain garnered only 1% of the vote in South Carolina. Now, five months later, he is the nominal frontrunner.
As the only presidential candidate without any political or military experience, his ability to resonate with Republican voters is unprecedented. Yet, despite his shortcomings as a candidate, he will certainly play a pivotal role in shaping the 2012 presidential election irrespective of whether he wins the Republican nomination or not.