Editors' note: This exclusive profile of Ann Coulter first appeared in the January 2009 issue of Townhall Magazine. Click here to subscribe and receive your free copy Mark Levin's new book, "Liberty & Tyranny."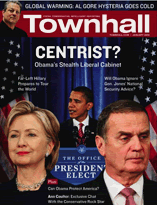 When Ann Coulter was a little girl she wanted to be "head of the Senate Foreign Relations Committee with a Republican president." Or a "fairy princess."
Instead, Coulter became the Rush Limbaugh of the printed word. She is author of six (soon to be seven) New York Times best sellers, a nationally syndicated columnist and one of the most popular speakers among young and old alike. Coulter has become the most successful conservative writer working today, with more than 3 million books sold. No 21st century conservative writer—male or female—comes even close. Like Limbaugh, her audience keeps growing. When a new book is released, liberals and delicate self-proclaimed conservatives say that "this time she's gone too far" and predict the end of her career. The book then sells better than her last. She drives the Left into a sputtering rage, and she loves it.
I first met Coulter at the 2000 Conservative Political Action Conference (CPAC) in Washington, D.C. Following the success of her first book, "High Crimes and Misdemeanors: The Case Against Bill Clinton," Coulter was given CPAC's Conservative Journalist of the Year Award. That year she also spoke at Young America's Foundation's journalism lunch. She has remained a favorite of young conservatives for her tenacity, wit and accessibility. Like many of them, she became active in the conservative movement during her college years.
During a time when famous people brag about their difficult childhood and airing family secrets become a badge of honor, Coulter doesn't apologize for having a normal childhood in New Canaan, Conn. She says her parents, John and Nell, were "immeasurably important" in shaping her beliefs and career choices. Her father passed away in January 2008, but her mother remains active and still enjoys reading about her famous daughter.
After years of boisterous political discussions with her parents and brothers around the dinner table, Coulter would blossom in the liberal stronghold of higher education. As one of Coulter's close friends told Time magazine, "For a younger girl with two older brothers, you've got to learn to mix it up, stand up for yourself. Older brothers are not going to cut you any slack. If you say something stupid, you figure, next time, I'm going to be better at it."
Coulter left Connecticut to attend Cornell University in Ithaca, N.Y. She said, "During my first few years of college, I was a community organizer of sorts—I went to sorority and fraternity parties, met lots of new friends, played lacrosse, went to church, chatted in the library and danced at Ujama House parties."
It wasn't long before she started making waves on campus. Cornell, which continues to be a breeding ground (or cemetery) for liberal thought, was the perfect environment for Coulter: "My junior year I became more of a think-tank- type political activist upon noticing I was at a world class university and hadn't really been taking advantage of it."
Coulter co-founded the conservative Cornell Review, which still exists today. She then went on to the University of Michigan School of Law. "I founded the University of Michigan chapter of this kooky, radical fringe group that believed in individual rights, the rule of law, and the Constitution of the United States of America, known as 'the Federalist Society.'"
One of the highlights of her time in law school was bringing in Supreme Court Justice Antonin Scalia through the Federalist Society. Much like she does when faced with a hostile crowd or commentator, Coulter thrived in the liberal campus atmosphere. "To quote Bill Ayers," she told me, "I don't regret one minute of my student activism. In fact, I wish we had done more."
A few years ago, I met the niece of Ambassador Clare Boothe Luce, who also attended Cornell around the same time as Coulter. Though they didn't know one another, Luce's niece was the photographer for the Cornell Review and other campus publications. Like Coulter, Ambassador Luce reached the height of success within the conservative movement. She was a playwright, managing editor of Vanity Fair, staunch anti-Communist, ambassador to Italy and congresswoman from Coulter's hometown district. While at the University of Michigan School of Law, Coulter became a fan of Ambassador Luce and her smart-aleck writing.
One summer afternoon in 2000, Coulter and I spent hours in the Manuscript Room of the Library of Congress, combing through some of the more than 800 boxes of personal and professional papers that had belonged to Ambassador Luce. Coulter was keen on finding a biting line she remembered then-Congresswoman Luce saying on the House fl oor to a liberal congressman. She found the line and quoted it in her weekly column a few months later.
Coulter loves finding a tidbit of information or unknown fact. Though it goes unnoticed by right- and left-wing commentators alike, many of Coulter's "outrageous" statements tend to become conventional thinking. "High Crimes and Misdemeanors" impeached a President. "Slander" busted the elite media. "Treason" vindicated Sen. Joe McCarthy and put Democrats' patriotism into the public square. "Godless" shed light on the religious cult of liberalism. Her newest book, "Guilty," goes a step further to expose the phony "victims" propped up by the Left.
On March 23, 1999, Coulter gave her first college speech for Young America's Foundation (YAF) at Brandeis University. She has since spoken on more than 60 college campuses and is YAF's most popular speaker. The foundation also says that their Ann Coulter poster is the most popular in their poster series. It graces the walls of campus dorms, military barracks across the world, and my office.
Editors' note: This exclusive profile of Ann Coulter first appeared in the January 2009 issue of Townhall Magazine. Click here to subscribe and receive your free copy Mark Levin's new book, "Liberty & Tyranny."
In 2001, I began traveling with Coulter to some of her college campus speeches. Over the years, the crowds she draws have grown larger and larger. I've probably witnessed Coulter receive more than a dozen marriage proposals from college boys. After "Slander" was released, she was a bona fide superstar among college students. Many of these students are drawn to Coulter because they want to follow in her footsteps, so I asked her what advice she has for those who want to be the next Ann Coulter or Ronald Reagan. "Hurry up! I'm ready to hang up my stirrups!" she replied. "First, thank you for mentioning me in the same sentence as the great Reagan. Second, there will never be another Reagan, so maybe set your sights a little lower. Hey, who wants to be the next St. Paul?"
Coulter does have some serious advice for Reagan admirers: "Note that Reagan did not go to Washington after college to work on Capital Hill or a conservative think tank. That's fine for a few years, but you should go out in life and do whatever you have a talent for or interest in, make a smashing success of yourself and then turn to politics full time."
Coulter took her own advice. She didn't write her first book and become immersed in national politics until after a decade or so of working as a lawyer for a private firm and the Center for Individual Rights. In fact, Coulter recalls that one of the biggest decisions she made in her career is agreeing to write that first book. "I spent a couple days mulling over [conservative publishing house] Regnery's proposal that I write a book about Clinton after the Lewinsky scandal broke. I was practicing law, I had never written a book before and the payoff—both financially and professionally—was far from a sure thing."
Now, more than 10 years after "High Crimes and Misdemeanors," her first New York Times best seller, the likelihood that "Guilty" will become her seventh bestseller is pretty close to a sure thing. In true Coulter form, "Guilty" expounds on a theme from "Godless" that the Left runs from honest debate by using "victims" to shield themselves from criticism. In "Guilty," Coulter states, "Liberals prey on this deep-seated American instinct to aid the needy by constantly bellyaching that they have been mortally offended. They are not offended—they are offending. They are not wounded victims—they are the marauding oppressors. They are not innocents—they are the guilty."
Coulter meticulously does all of the research for her books. Finishing a book brings both panic and liberation, she says, "First, in a paralyzing terror, I think: I CAN'T MAKE ANY MORE CHANGES TO THE BOOK! Then in joyful relief, I think: I CAN'T MAKE ANY MORE CHANGES TO THE BOOK!"
"Fortunately, the space of time between these two thoughts grows shorter with each book," Coulter continues. "For the next few weeks, other points I should have made will keep popping into my head, but I always think of the Paul Valéry quote George Will told me when I was depressed that I couldn't make any more changes to my first book, 'High Crimes': 'A poem is never finished, only abandoned.'"
After a campus speech is finished, she signs books for hundreds of eager students and then has dinner with the group of college students that sponsored the lecture. Coulter holds court with the students, but also absorbs every word they say. Afterwards, she'll exclaim, "I love these kids! They're so cool!" It was, perhaps, the first time some of these students were called "cool." I will admit that a couple times I have looked at her bodyguard and we've snickered. (One time she caught me and punched me in the arm.) Still, she's right. The kids who sponsor conservative speakers are the rebels on college campuses. The students who parrot the professors and show up at their teach-ins and performances of "The Vagina Monologues" are the annoying apple-polishers, as Coulter likes to say.
What many people don't know is that Coulter has inspired and mentored young conservatives for years. I count myself as one of those people. A couple times I've forwarded her hate mail I've received to get her perspective. It's not her style to respond sympathetically. Instead, she writes back, "Congratulations!" Of her own hate mail, Coulter said, "I'd show you some of the stuff I get, but I think it's a FCC violation even to forward them to anybody. I'm the Audie Murphy of, uh, people who are proud of being hated by liberals." (Murphy, an American patriot, was one of the most decorated war veterans in U.S. history).
Since Coulter has reached the pinnacle of success in her field, I asked her if there's anything she would still like to accomplish. "Absolutely, completely truthfully, I've always wanted to write novels," she says. "If liberals would just stop talking, I could finally turn to my lifelong dream."
Conservatives also need to step it up before Coulter can hang up her stirrups. What do conservatives need to talk about? "The one idea that apparently must be explained over and over again, especially now, is freedom," she told me. "Also: taxes, national security, the unborn, and doing something about all this 'pregnant man' business."
Several months ago, Ann and I were in the same city for two weeks and finally connected the day before I left. We spent the evening drinking chardonnay, eating stale potato chips while talking about boys, the election and "CPAC gossip," as she put it. At one point she said, "What time do you think it is?" I guessed it was probably 2 a.m. I was wrong. We had been blabbering and getting eaten up by mosquitoes until 5 a.m. Like millions of others, I have read Ann Coulter's books and columns, seen her on TV, heard her on the radio, witnessed raucous speeches on college campuses and enjoyed her numerous appearances at CPAC—yet I'll still stay up until five in the morning to hear what she'll say next.