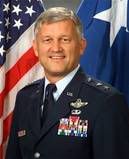 Over at Race42012, Adam Brickley sees a Senate pick-up opportunity for Republicans in Colorado.

The incumbent is a little-known fellow named

Michael Bennet

, who was appointed to replace Ken Salazar, who is now in the Interior Secretary.

Brickley is boosting Major General

Bentley Rayburn

, U.S. Air Force (Retired).

Rayburn has lost a few races, but as Brickley notes, this appears to be a good opportunity for the General.

And, of course, it goes without saying that Brickley has a pretty good track record of spotting talent...