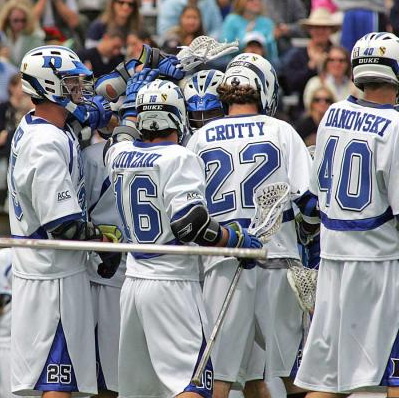 The Duke men's lacrosse team-- whose shot at a national championship was spoiled last year by the Duke non-rape case and an overzealous, PC university president who ended their season and unceremoniously pushed out their legendary coach-- is playing in the national Final Four this weekend against Cornell. After, of course, trouncing UNC 19-11 last week (Go to Hell, Carolina! Go to Hell!, as we say in Durham.)


Duke's players are also asking the NCAA to correct the mistake Mike Nifong and Richard Brodhead made with their college careers by asking for an extra year of eligibility:
Still - as his team prepares for this weekend's Final Four - coach John Danowski figures the proposal is "a long shot."

"It's unprecedented, so to think that it could happen is probably unrealistic," Danowski said after practice Wednesday. "It's a long shot. I don't gamble, but I wouldn't put money on it. That's for sure."

Danowski said his Blue Devils (16-2) - the top seed in the NCAA tournament - are more focused on facing fourth-seeded Cornell (15-0) in Saturday's semifinals. Still, he said the proposal was about doing everything possible for "the kids who have been through so much."

"And if there's something else that can be done for them, I think that's a good thing," he said.

"Obviously most of the guys would be pretty interested in it," senior defenseman Nick O'Harasaid. "But for right now, that's something that's not even really thought about - maybe in the back of your heads a little bit."
Details on the game, 2:30 Saturday:
Featuring the hottest scoring pair in the nation, the top-seeded Blue Devils (16-2) face Cornell (15-0) on Saturday in the NCAA Men's Lacrosse Tournament semifinals before an expected record crowd of more than 45,000 at M&T Bank Stadium in Baltimore. Duke hopes to reach Monday's final and claim the title it came within a whisker of in 2005and could not pursue in '06 after its season was cut short.
If they get past Cornell, Duke would play the winner of Delaware/Johns Hopkins for the title.

Bring one home, boys!

Update: Here's a player that breaks the stereotype the MSM gave us of Duke lacrosse players last year. Meet Tony McDevitt, son of a Teamster who worked multiple jobs to support his wife and four kids.