Last night during the final presidential debate of 2012, President Obama said we have "fewer horses and bayonets" during an exchange with Governor Mitt Romney. The comments were condescending, belittling and Obama implied the use of bayonets and horses was obsolete. This is not the case. Yes, Obama said "fewer" rather than "not at all," but let's take a look at how the military uses horses and bayonets today.
First, the Marines. The Marines have an entire page on their website dedicated to the bayonet, which is used in close combat situations.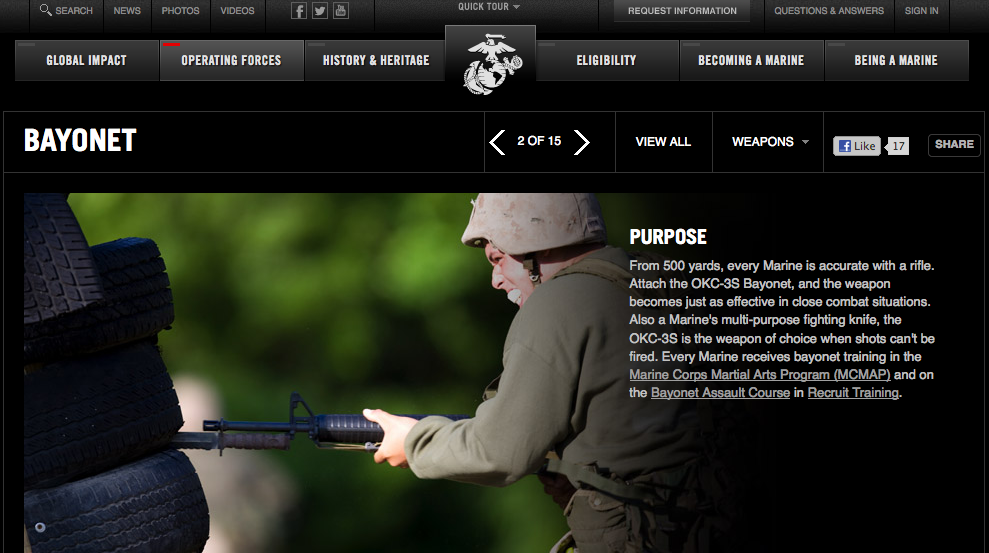 HorseChannel.com recently published an article about how horses are used in the Army to climb rough terrain in Afghanistan.
At Smith Lake Stables, adjacent to Fort Bragg, N.C., 36 horses are owned by the U.S. government and serve their country in two assignments. In one assignment, they act as equine ambassadors, linking the civilian public to the military. The horses are used in an annual summer camp program and in weekly day camp activities for home-schooled kids. But the horses' most important role is their real job. They help prepare active duty personnel, particularly Army Special Forces troops, for challenges in foreign countries.

"The first time we used our horses to train Special Forces was right after 9/11," explains Mark Rossignol, business manager for Smith Lake Stables. Fort Bragg is home to the U.S. Army's Special Operations Forces. "They were being sent to Afghanistan, and often the only way they can travel over there is by horse."

The rocky terrain found in remote areas of Afghanistan isn't easy to traverse, even by jeep. Native horses become a mode of transportation. Pack animals, especially donkeys, also become familiar partners.
Here is a video of the 1st Cavarly riding horses in 2009.
And finally, there is the monument in New York City right next the World Trade Center site dedicated to soldiers who rode into the war in Afghanistan on horses in 2001.
"It was like out of the Old Testament," says Lt. Col. Max Bowers, retired Green Beret, who commanded the three horseback teams.

"You expected Cecil B. DeMille to be filming and Charlton Heston to walk out."

Bowers spoke while sitting in the rural Kentucky studio of sculptor Douwe Blumberg, along with three of his former "horse soldiers."

They, along with 30 fellow commandos on horseback, are the inspiration for a new monument that Blumberg is creating, dedicated to the entire U.S. special operations community.

The statue is scheduled to be erected across from the World Trade Center site in New York on November 11, Veterans Day. The artist rounded up these "horse soldiers" to share their personal stories and mission photos as inspiration for the 18-foot, bronze monument.

"It was unbelievable in 2001," Master Sgt. Bart Decker says to Blumberg.

Decker, the team's Air Force Special Operations combat controller, who is now retired, sports a Fu Manchu-style mustache. "We all looked at each other [and said] 'We're witnessing a cavalry charge!' " he said.
One thing is clear: the use of horses and bayonets is not obsolete as President Obama implied.