Ten points to the person who can correctly guess the location of this photo:
No, it's not Libya, or Palestine, or Syria.
It's Oakland, California.
Occupy Oakland, to be more specific. Because, as we all know, a violent riot is the most effective way of creating jobs and reducing corporate political influence.
Yesterday, "Occupiers" marched through the streets of Oakland, shut down the city's harbor--the fifth busiest in the US--and provided cover for violent anarchists to commit acts of vandalism, such as spray-painting a Whole Foods and breaking the windows of a Wells Fargo. By nightfall, the protesters themselves devolved into a violent mob, setting fires in the streets and breaking into abandoned buildings:
Occupy protesters voicing anger over a budget trim that forced the closure of a homeless aid program converged on the empty building where it had been housed. They blocked off city streets with Dumpsters and other large trash bins, starting bonfires that leapt 15-feet in the air.

City officials released a statement describing the spasm of unrest.

"Oakland Police responded to a late night call that protesters had broken into and occupied a downtown building and set several simultaneous fires," the statement read. "The protesters began hurling rocks, explosives, bottles, and flaming objects at responding officers. Several private and municipal buildings sustained heavy vandalism. Dozens of protesters wielding shields were surrounded and arrested."

Protesters reported running from several rounds of tear gas and bright flashes and deafening pops that some thought were caused by "flash bang" grenades. Fire crews arrived and suppressed the flames.

Meanwhile, protesters and police faced off for the rest of the night in an uneasy standoff.
A clip from a live UStream feed in the streets of Oakland feels more like it came from Iraq than California, as flash grenades explode and people run through the streets with weapons:
Larry Kelley, a Townhall.com/Townhall Magazine contributor, was on the ground in Oakland yesterday and sent a few shots of the "peaceful" protesters in action.
A giant banner proclaiming "Death to Capitalism":
Anti-Israel protesters:
Anarchists (with the black scarves) leading the Occupy march: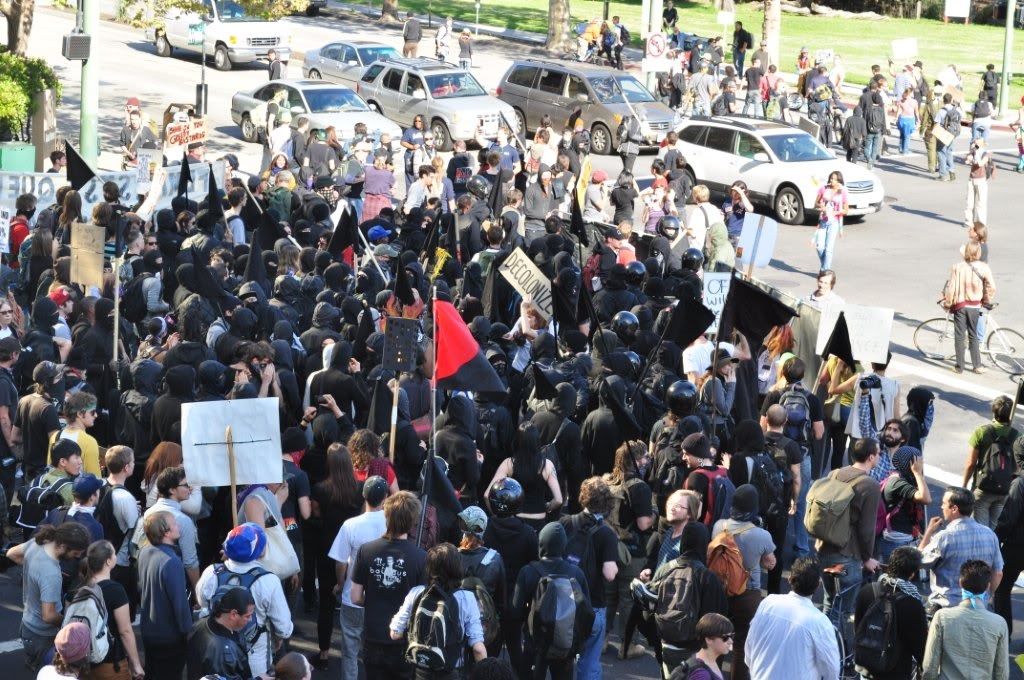 The "Occupiers" holding a sit-in at Wells Fargo, where they later smashed the windows: