We gave you a whiff of this story in an earlier post, but these abuses merit some solo play. The administration-directed actions of our National Park Service to "make life as difficult for people" as possible are nothing short of scandalous. There's a reason Mark Steyn has colorfully referred to the NPS as the government's "shock troops of punitive bureaucracy." Listen to this senior citizen tourist describe her experience at Yellowstone National Park, thanks to the administration's armed enforcement brigade:
"You could feel the element of fear."

The rangers went out of their way to block Old Faithful from visitors' view. We certainly can't have domestic and international tourists witnessing the natural wonders they paid to see during a federal shutdown, can we? Today's AP poll showed that more than 80 percent of Americans aren't experiencing Washington's temporary budget crisis in their own lives, so someone's gotta pay. Might as well be terrified Japanese tourists. All of this nonsense, courtesy of the self-described party of compassion, and America's "public servants." Stories of the feds trampling on privately-run businesses have also garnered some attention over the last few days, including this ridiculous scene in Virginia:
At a spot 5,000 feet above sea level and 20 miles from the nearest town, an innkeeper decided Friday to defy the federal government and reopen his lodge. That stand lasted about two hours as National Park Service rangers blocked the entrances to the privately run Pisgah Inn on the Blue Ridge Parkway after owner Bruce O'Connell decided to reopen his dining room, gift shop and country store at noon Friday for lunch. The federal government had forced the inn, in a leased building on federal land, to shut down at 6 p.m. ET Thursday at the height of fall foliage — and tourism — season...A handful of guests had lunch before Park Service patrol cars blocked the driveways, turning on their orange flashing lights. Rangers turned customers away, saying the government was closed...Because both the Pisgah Inn and Peaks of Otter Lodge are private, any proposal to pay federal workers for time off during the shutdown wouldn't apply to employees there. The parkway's chief ranger, Steve Stinnett, said Park Service managers in Washington directed him to block access to the inn at milepost 408.6 and ensure "people don't utilize a business that, according to the federal government, is closed." Rangers will stay in place as long as they are needed, Stinnett said...O'Connell said he got a letter from Park Service Director Jonathan Jarvis ordering him to shut down. The Park Service also told him he was violating his contract, which expires this year. He said he could not get around patrol cars blocking the entrances to his business but left the door open for future defiance.

The inn is apparently back open for business, but we'll see how long that lasts. In the meantime, the House has passed two more funding measures -- each relating to the military:
Breaking: House votes 425-0 to ensure families of fallen troops get death benefits, despite government shutdown.

— Juana Summers (@jmsummers) October 9, 2013
Sen. McConnell asked consent to pass the House bill on military chaplains. Democrats objected.

— Stew (@StewSays) October 9, 2013



As Obama's approval ratings slip, the GOP's image is taking a beating. The president's "no negotiations" stubbornness is also inviting negative headlines. Washington is destroying itself. Perhaps for that reason, Obama has invited members of Congress from both parties to the White House to talk, and potential side bargains are being discussed. For the moment, however, the president's position remains firm and clear:





Parting thought: A private citizen took it upon himself to mow the lawn around the Lincoln Memorial, which was getting overgrown because of the shutdown. I'm actually surprised he wasn't arrested: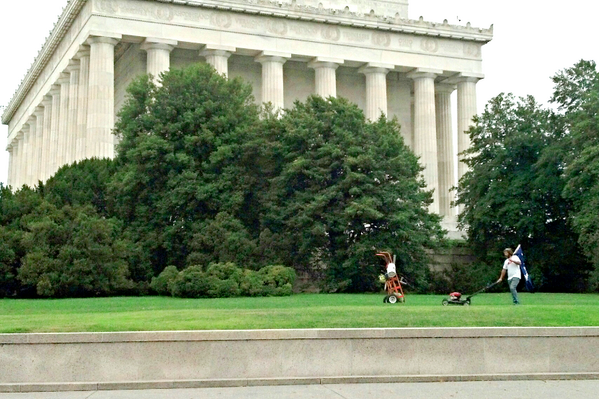 Anarchist!