According to a new Gallup poll, Americans' economic confidence has lately plunged to -53, the lowest level measured since the [official] recession-days of March 2009, and it seems that the debt ceiling debacle and S&P's downgrade are what did it.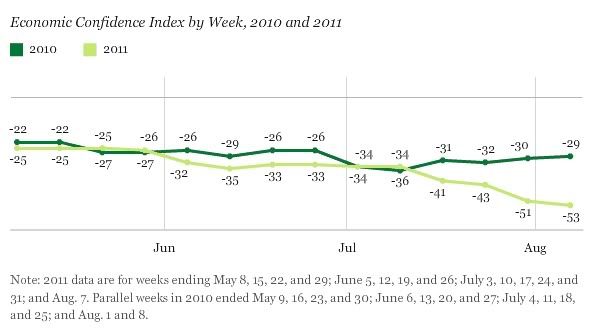 U.S. economic confidence deteriorated even faster in July and the first week of August than it did in June compared with May. This plunge in confidence contrasts with the relatively flat trend in 2010. It also places consumer perceptions of the economy in the range of March 2009 during the recession. Gallup's Economic Confidence Index hit its recession/financial crisis weekly low of -65 -- just 12 points worse than now -- during the week of Oct. 6-12, 2008.

Gallup's Economic Confidence Index combines two measures: one assessing Americans' views about whether the U.S. economy is "getting better" or "getting worse," and the second involving Americans' ratings of current economic conditions as "excellent," "good," "only fair," or "poor." The Index's inception was in January 2008. Both weekly ratings are at their lows since early 2009.
And, despite President Obama's many protestations that he's doing everything humanly possible to help and promote small businesses, they're steadily losing heart in their own prospects, with small business optimism slipping to the lowest level since last September.
That whole "hope" thing doesn't seem to be working out too well for President Obama, seeing as how people have none. But, fear not, for all is not lost, according to Texas Governor and almost-certainly-soon-to-be GOP frontrunner Rick Perry. Texas has seen the greatest job growth of any other state under his governorship, and that just may be the sort of know-how Americans are looking for right now.
"Some out there may say that we're seeing America in decline, but I don't believe that," Perry said, striking an optimistic tone befitting a full-fledged White House candidate. "I know our country's best days are still ahead of us. I believe in this country because I believe in Americans."

"I believe that even in this, one of our darkest hours, I'll tell you this West Texas optimist sees our brightest hour as just around the corner," Perry added. ...

Perry is visiting South Carolina, New Hampshire and Iowa, a schedule that makes clear that he's likely to move forward with a presidential candidacy. ...

"Our fiscal house is built on shifting sands," Perry said. "Until Washington figures out that the only true stimulus is more money in the hands of employers across all economic sectors ... our national nightmare will continue."