Absurd and unsupportable.
So says Kerry Healey, the woman who recruited businessman Mitt Romney to run for governor of Massachusetts, when discussing the Left's war on women narrative against the current GOP presidential candidate.
It's been a mirage piñata that the Left has been all too eager to keep whacking this election cycle, whether the topic be women's health or economics, both of which came up in the infamous the "Life of Julia" vignette earlier this year. The Obama campaign also released a TV ad where a woman called Romney "out of touch with the average woman's health issues." A Planned Parenthood ad pronounced him "wrong for women's health."
But in Healey, the GOP has a voice whose authority on the subject is hard to discredit.
As a witness to Romney's executive outlook while governor, Healey, who was touring Florida last week as part of a bus tour highlighting Romney's work with women, paints a rich contrast to the Left's cartoonish portrayal: Romney's chief of staff was female. Fifty percent of his cabinet appointees were women, she says (see update below). And Romney asked Healey herself to serve as his lieutenant governor.
Having a diverse cabinet was something Gov. Romney kept in mind, Healey remembers. He was always looking for the most qualified candidate for a position, but he was aware he wanted a variety of voices in that cabinet. He hired a woman to be the first professional HR director for the state and gave her charge of ensuring women, minorities and women-owned businesses were represented when the state was hiring people or businesses.
"It's a manufactured narrative," Healey says of the Left's warfare.
When it comes specifically to women's health, Healey gives a succinct affirmation of Romney's devotion to his wife, Ann, who has dealt with both breast cancer and MS during their marriage.
"Ann is his first among equals," Healey says. "He has been an incredibly devoted and supportive husband to her throughout her struggle with MS, throughout her struggle with breast cancer after the close of the last election."
Healey also retraced her steps to recruit Romney to run for governor of Massachusetts. As chair of the Republican State Committee, Healey was charged with retaining the governor's office amid the state's economic problems and despite a Democrat-leaning voter bloc.
"What skill set would even a state that's dominated by Democrats and is as blue as blue can get, what sort of qualities would be compelling to them in these tough times?" Healey recalls. "It was the skill set that Mitt Romney had. It was the know-how of how to turn things around in the private sector. He'd shown enormous integrity and again fiscal know-how in turning around the Olympics."
She recalled a pile of emails printed out on her desk that was an inch thick suggesting she get Romney and bring him back to Massachusetts, which she accomplished. Romney served one term as governor of Massachusetts in 2002.
And the rest may very well be presidential history in the making.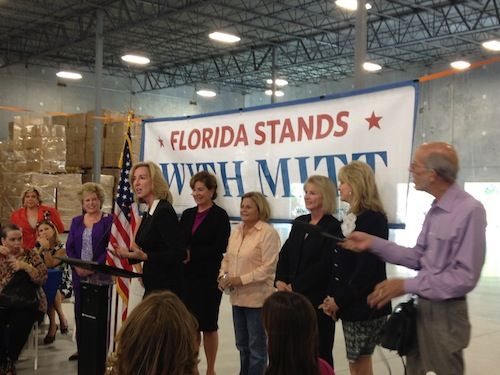 Kerry Healey recently participated in a Florida bus tour supporting Romney. Photo courtesy of the RNC.
Update: Just wanted to clarify the "50 percent" of Romney's cabinet appointees were women statistic, since Romney's record hiring women while governor of Massachusetts has set off a firestorm in the news cycle the past several days: the lieutenant governor was referring to the University of Albany study, which extends beyond the cabinet to other top positions, though the article above quotes her accurately from the interview. But an executive summary of the state from Mass.gov at one point during Romney's term talks about a reformatted cabinet, with women's names filling 6 of the 13 positions, not including the lieutenant governor. Including the lieutenant governor, that would indeed put the gender split in Romney's planned reformatted cabinet at 50/50. It is important to note, however, that cabinets can be revolving doors.