A new Gallup poll finds that the country has moved decidedly to the Right since 2008. For example, the year Barack Obama was elected president of the United States, 35 states were considered "Democratic," according to Gallup's in-house polling data measuring voter party affiliation. Today, however, that number has plummeted to just 17 states.
What's more, between 2012 and 2013, the number of U.S. states that Gallup defined as "solid" or "lean" Democratic dropped from 19 to 17, while at the same time the number of states Gallup defined as "solid" or "lean" Republican increased from 12 to 14. In other words, in 2013, the political composition of the country was (almost) evenly divided: 17 states were "Democratic" and 14 states were "Republican." The rest were "competitive":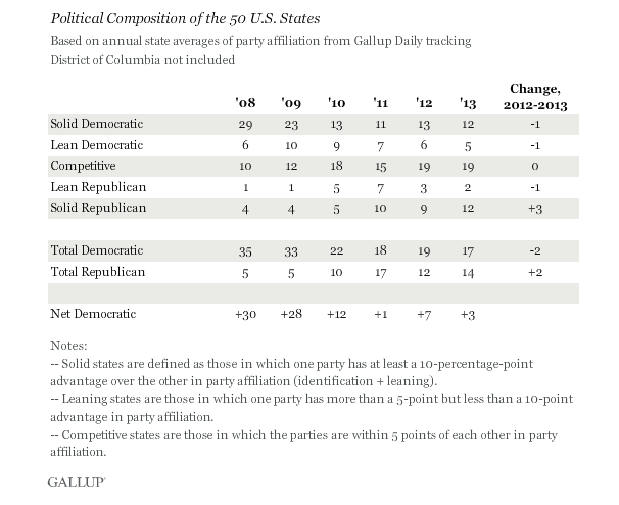 Here are three takeaways Gallup proposes and asks us to consider: First, party preference changes over the last few years have obviously benefited Republicans. While the same number of states between '12 and '13 are considered "competitive," the total number of blue states have dropped from +7 to +3. Recent trends, meanwhile, suggest this gap is only narrowing. Second, Senate Democrats face unfavorable terrain in 2016 as they look to keep control of their majority in the U.S. Senate. Why? Because the president's party must defend vulnerable seats in at least three red states. "Thus," the pollsters write, "the political climate appears relatively auspicious for Republicans." Indeed. Third, since party affiliation does not necessarily correlate to voter turnout -- that is, we simply have no idea who will show up and vote on Election Day next fall -- Democrats may benefit if the president's ugly job approval numbers improve over time. Nothing is certain, of course, but if the president can re-establish some level of trust and confidence with the American public (which he seems to sorely lack) this will benefit Democratic candidates tremendously down the line who are running for public office at all levels of government.
In short, the electoral shifts we've seen over the last six years suggest Republicans are no longer facing unfavorable political headwinds. Whether or not they can capitalize on this opportunity, however, is anyone's guess.