A new Washington Post/ABC News Poll released Tuesday solidifies former Massachusetts Governor Mitt Romney as the clear frontrunner in the race for the 2012 GOP nomination. Rick Perry, who tied with Herman Cain at 16%, has dropped considerably since the poll was last conducted in early September.
What's important to note is that while Governor Perry has dropped 13 percentage points – which is probably attributed to his lackluster performances in every debate he's competed in – Herman Cain is now unquestionably a top tier contender. Although he's never held elected office – his 12-point leap in today's poll has revamped his once unlikely candidacy. His message, it seems, is resonating with Republican voters across the political spectrum.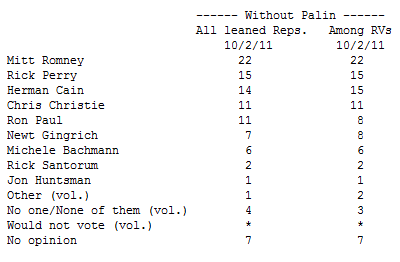 According to my colleague Elisabeth Meinecke, Governor Chris Christie is holding a press conference today at 1 pm. Whether he will make an announcement, however, remains to be seen. But given his strong polling numbers – where he received 11% of the vote in a survey that excluded Sarah Palin – if he does decide to run his growing support will certainly change the trajectory of the election and challenge Governor Mitt Romney's status as the Republican frontrunner.