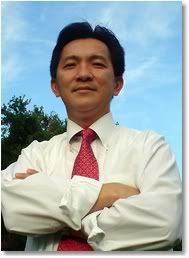 Louisiana's newest GOP congressman, Joseph Cao. He is the first Vietnamese American elected to Congress. He came to the United States at the age of eight as a refugee.

The disgraced congressman Rep. William "Cold Cash" Jefferson has lost his 10th term re-election to Republican Ahn "Joseph" Cao, 50 percent to 47 percent.

Cao will be the first Vietnamese congressman in history. He was born in Saigon and came to the United States at the age of eight as a refugee. His father was captured by Communist forces.
His biography is so stunning, I can't property retell it, so I am going to copy and paste it from his website. He has a VERY compelling story, keep an eye on Joseph Cao!!!
Anh "Joseph" Quang Cao, 41, was born in Saigon (now Ho Chi Minh City), Vietnam, the fifth of eight children. He grew up in Vietnam during the most turbulent years of the Vietnamese Civil War and can vividly remember bombs exploding next to his elementary school. After the fall of Saigon in 1975, Joseph fled Vietnam for the safety of the United States. His father, an Army officer committed to the freedom of South Vietnam was imprisoned by the Communists, leaving his mother to singlehandedly raise the five remaining children.

At the age of eight, Joseph and two of his seven siblings arrived in the United States. He spent his first four years in America where he attended primary school and learned the English language and culture. Eventually, he settled in Houston, Texas, where he graduated from Jersey Village High School and in 1990 earned a Bachelor of Science degree in physics from Baylor University in Waco, Texas.

After graduation, Joseph entered the Society of Jesus (the Jesuits), finally arriving in Louisiana for the first time to begin his religious training at Grand Coteau. During his first two years in the Society, Joseph was sent by his religious superiors to various parts of the world to minister to the poor and indigent. Joseph was then sent to New Orleans in 1992 to study theology and philosophy, furthering his training for the priesthood. He subsequently was accepted to Fordham University in New York, where he earned his Master of Arts degree in philosophy in May 1995. He returned to New Orleans to teach philosophy and ethics at Loyola University. The following year, Joseph left the Society of Jesus and taught at a local parochial school in Virginia.

While in Virginia, Joseph volunteered at Boat People S.O.S., Inc. (BPSOS) to assist poor Vietnamese in their quest for social justice and enculturation and to lobby the U.S. Congress on issues concerning civil and religious rights. He eventually became a board member of BPSOS and served in that capacity from September 1996 to March of 2002.

In September of 1997, Joseph returned to New Orleans to study law at Loyola School of Law and subsequently resumed teaching philosophy at Loyola in 1998. In May of 2000, he obtained his Juris Doctorate from Loyola and began his legal career as an associate at the Waltzer Law Firm. He left Waltzer & Associates to become in-house counsel for BPSOS, opening a New Orleans office seeking social and legal equity for the many refugees in the city. During his time as BPSOS in-house counsel, Joseph initiated programs to help victims of torture and to provide social and cultural developments for poor minorities.