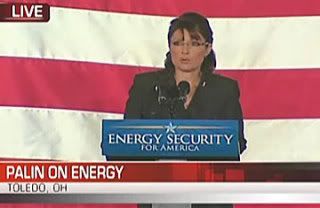 GOP vice presidential candidate Sarah Palin refurbished her credentials on energy reform in her second major policy address at an solar energy company in Toledo, Ohio.

"In my experiences in Alaska, I have seen what American ingenuity can achieve if given a chance," Palin said. "As governor of a huge energy-producing state, and as chair of our state's oil and gas conservation commission, and chairman of the nation's Interstate Oil and Gas Compact Commission, I've also seen how political pressures, special interests, and corporate abuses can work against the clear public interest in expanding our domestic energy supplies."
She even took a jab at Alaskan Republican Sen.Ted Stevens who was recently found guilty of seven charges of making false statements about gifts he received by a federal jury. " As you may have seen in the news this week, Alaska's senior senator is not the first man to discover the hazards of getting too close to moneyed interests with agendas of their own."

Palin also used the address to blast her Democratic opponent. She called Joe Biden's positions on energy issues "nonsense."

"He says clean coal's a good idea for China -- but sorry, Ohio, Joe Biden says it's not for you," she said. "That's just nonsense, and there's plenty more of it in Senator Biden's record. He's against drilling off our coasts, for environmental reasons. But he says that offshore drilling holds real promise for the island nation of Cyprus -- as if the environmental safeguards of the Cypriots are more rigorous than our own. And so far as he and Senator Obama are concerned, nuclear power's okay, too -- but only for France and other European nations. Our opponents seem to have all sorts of solutions for the energy needs of other nations -- now if only they'd focus more on what America needs."

Palin said Democrats' opposition to energy exploration based on environmental concerns was mistaken, citing clean technological advances like horizontal drilling, carbon capture and storage and enhanced recovery.