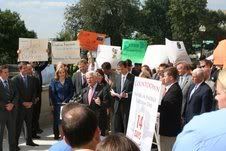 That's right. House Republicans held a major press conference Wednesday, hosted by Americans for Prosperity, to do nothing. They want to let the congressional ban on drilling naturally expire to let the ban of offshore drilling terminate on September 30th.

Townhall's Coalitions Manager Garret Murch attended and sends this report:

A "sham" energy bill passed the House Tuesday that would ban energy exploration within 50 miles offshore if signed into law.

Most of the estimated 86 billion barrels of oil off America's coasts lies within 50 miles of shore. Rep. Marsha Blackburn (R.-Tenn.), not mincing words, said the "bill that was passed last night by the House is a hoax."
Rep. John Shadegg (R.-Ariz.), citing the 50-mile restriction as well as the ability of environmental groups to hold up energy projects, said the House-passed bill was "intended to trick Americans because not a drop of oil."
All Congress has to do to bring an end to the offshore drilling ban is do nothing at all, they said. Rep. Tom Price (Ga.) called on Speaker Pelosi to "play to her strength and do nothing."
Grover Norquist, President of Americans for Tax Reform and fellow participant in the press conference, has noted that a vote for the Senate's "Gang of 20" energy bill, which also includes a similar ban on offshore, would violate his Taxpayer Protection Pledge. Nine Senate pledge-signers are currently supporting compromise energy package bill.
Participating along with Blackburn, Shadegg, Price and Norquist were Senators Jim DeMint (S.C), Jeff Sessions (Ala.), and Wayne Allard (Colo.), as well as Representatives Jeb Hensarling (Tex.), Mike Pence (Ind.), Jeff Flake (Ariz.), Michele Bachmann (Minn.) and National Taxpayer Union Vice President Pete Sepp.