Yesterday Chairman of the House Oversight Committee Darrell Issa and Ranking Member of the Senate Judiciary Committee Charles Grassley issued a 211-page report and more than 2,000 documents, pinning much of the blame for Operation Fast and Furious on five ATF supervisors. This is the first in a series of three reports expected to be released.

An initial look at the report and the documents reminds us of a few things and also brings us new information.

First, it was just over a month ago when Attorney General Eric Holder became the first sitting cabinet member in history to be held in civil and criminal contempt of Congress. In yesterday's document dump, an email from former Arizona U.S. Attorney Dennis Burke, the man responsible for overseeing Fast and Furious on the ground level in Phoenix on behalf of the Department of Justice, shows there was discussion about Holder in relation to Fast and Furious.
U.S. Attorney Dennis Burke apparently viewed it [Fast and Furious] as such a model case that he was working to have Attorney General Holder attend the takedown press conference scheduled for January 2011. On December 14, 2010 (just hours before Border Patrol Agent Brian Terry was shot), Burke sent an e-mail to his staff with the subject "Fast and Furious."
The case Burke referred to in the first email is Fast and Furious. After Terry was killed, Burke changed his tune.




Burke resigned in August 2011 amidst the fallout of the scandal. As a refresher, Burke says he never spoke to Attorney General Eric Holder or his former boss Homeland Security Secretary Janet Napolitano about the operation. Yet this email strongly implies otherwise. Not to mention, throughout his time as US Attorney, Burke was sitting on Holder's Attorney General Advisory Board giving Holder direct advice as to gun trafficking policy and on border policy in general. Furthermore, he served as Napolitano's staffer during her time as Arizona Attorney General, served as her chief of staff during her time as Arizona governor, and followed her into the Obama administration as her senior Homeland Security adviser before President Obama appointed him to US Attorney. In addition to having a longtime personal and professional relationship with Napolitano, Burke also helped draft the Clinton era assault weapons ban legislation with now-Chicago Mayor Rahm Emanuel, who served as President Obama's chief of staff.

The report includes multiple memos addressed directly to Holder as early as August 2009 on the topic of gun trafficking. Holder claims he first found out about the case a "few weeks" prior to May 2011.
The genesis of the strategy employed in Operation Fast and Furious goes back to the summer of 2009. On August 19, 2009, Lanny Breuer, Assitant Attorney General for the Criminal Division of the Department of Justice, sent a memorandum to the attention of the Attorney General that reported recommendations of the Firearms Trafficking Working Group("FTWG"). The FTWG's mission was to formulate a plan to improve the U.S. government's efforts in stemming the illegal flow of weapons, which was fueling escalating violence along both sides of the Southwestern border. The working group's first recommendation was that the "Attorney General and Secretary of Homeland Security should form an interagency Southwest Border ("SWB") firearms trafficking strategy group." According to the Justice Department, "the Deputy Attorney General responded to the specific proposals in this memorandum by forming the Southwest Border Strategy Group, which he chaired.
In addition to Burke, the report lays out a detailed case against former Phoenix Special Agent in Charge Bill Newell, former ATF Acting Director Kenneth Melson, former Deputy Director William Hoover, former Assistant Director for Field Operations Mark Chait and Deputy Assistant Director for Field Operations William McMahon. They are all "formers" simply because they were reassigned within the DOJ or ATF, not fired. ATF supervisor David Voth also played a large role in moving the operation forward.

NO RESPECT FOR HUMAN LIFE

Throughout the course of Operation Fast and Furious, ATF supervisors ignored the skyrocketing murder rate in Mexico as the agency continued to flood the country with weapons. Voth specifically pointed out the increasing numbers of dead, yet said the plan was "righteous" and that the case would take "patience." In other words, humans were being used as collateral damage for what Voth saw as the greater good of the operation, which resulted in no arrests of cartel kingpins. Voth even went so far to say, "If your case has firearms recovered in Mexico…document that people were killed, drug[s] were recovered, it was Cartel related etc. This will help us down the road." Voth was encouraging agents to make the connection between Cartel violence and the "source" of the weapons used: U.S. gun dealers who were cooperating with ATF the entire time and being told to sell to cartel straw purchasers.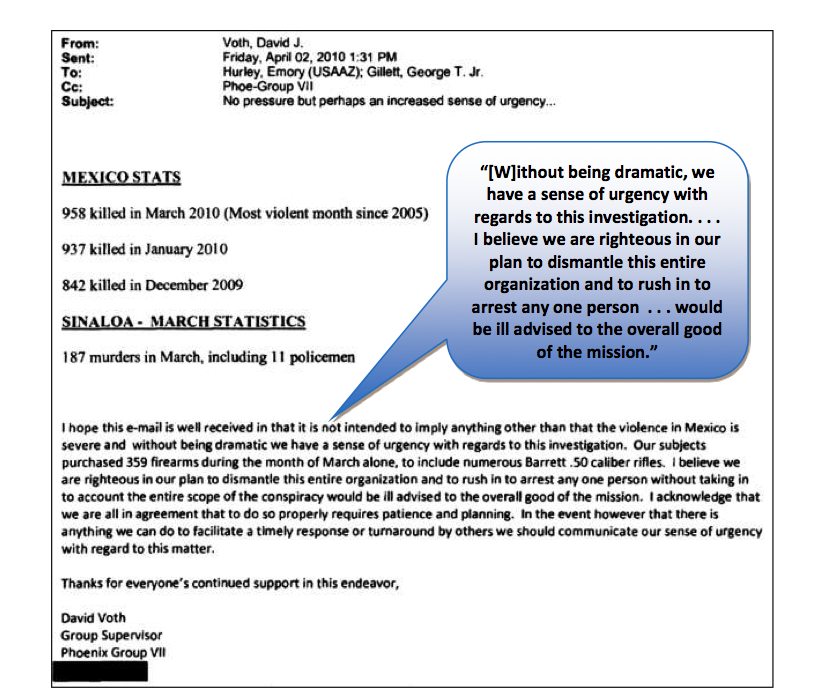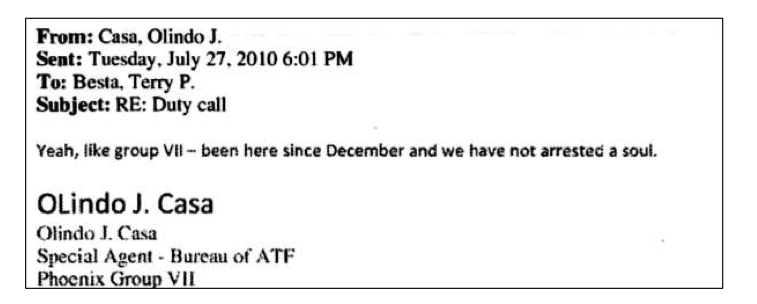 When Border Patrol Agent Brian Terry was killed on December 15, 2010 and guns from Operation Fast and Furious were left at the murder scene, Voth sent another email. He made it clear he was annoyed the case could get ugly, rather than expressing regret for Terry's murder being connected the case he deemed as "righteous."
Ugh….things will most likely get ugly": ATF knew that any deaths tied to Fast and Furious weapons would cause an immediate public outcry. ATF tried to minimize this fallout by limiting access to information and avoiding discussions of links between any deaths and firearms associated with the case.
Shortly after, a gag order was issued to ATF field agents involved in the case and Voth sent an email stressing the importance of remaining quiet and obeying the order.
DENIAL OF FAST AND FURIOUS CONNECTION TO TERRY MURDER

Based on Voth's, "things will most likely get ugly" comments, ATF did everything it could to cover up the connection between Terry's murder and the operation. They coordinated with each other before giving statements to the media, making it clear no connection should be made between the two when speaking to the press.


ATF also used the strategy of "ignoring" the connection between a murder and Fast and Furious in the case of Mario Gonzalez, brother of then Attorney General of the State of Chihuahua in Mexico Patricia Gonzalez in November 2010.
A subsequent shootout between police and the murder suspects resulted in the recovery of sixteen weapons, two of which traced back to Operation Fast and Furious. Though ATF quickly became aware of the connection between Fast and Furious guns and the high-profile murder of Gonzalez, which dominated the news in Mexico, ATF declined to inform Mexican government officials about the link or about Fast and Furious.
Terry's family found out about the connection between Terry's murder and Operation Fast and Furious through the media, not from ATF of DOJ officials.

PLENTY OF EVIDENCE GUN CONTROL WAS A MOTIVE FOR ATF SUPERVISORS

Townhall reported in July 2011 that Operation Fast and Furious was used and designed to promote gun control based on email evidence from Chait to Newell on July 14, 2010 which read, "Bill- Can you see if these guns were all purchased from the same FfL and at one time. We are looking at anecdotal cases to support a demand letter on long gun multiple sales. Thanks Mark R. Chait Assistant Director Field Operations."

The new report gives us more evidence of a push for new long reporting regulations, which the Justice Department put into place last year.




A memo was sent directly to Attorney General Eric Holder from former Acting Director Kenneth Melson asking for approval for long gun reporting measures.
Memo to Holder About Long Gun Reporting

While ATF was pushing for new regulations on border state gun dealers, supervisors were grossly misleading them. Dealers continually expressed their concerns about allowing bad guys to purchase weapons but were reassured that arrests were being made and that weapons were not going to Mexico. Both of these assertions were false.
ATF continued to mislead FFLs (gun dealers) about the interdiction of weapons, and ATF investigative agents acted recklessly by crossing the line into ATF's regulatory function."

HOMELAND SECURITY PLAYED LARGE ROLE

ATF and the Department of Justice have received the bulk of the criticism when it comes to the Fast and Furious fallout; however, other agencies also played large roles in carrying out the operation. The Department of Homeland Security was heavily involved through I.C.E. and worked to recover and trace firearms in the program. Border Patrol also helped in this aspect.

A memo titled, "Division of Responsibilities with DHS," shows the connection between Fast and Furious, ICE, DHS, ATF and DOJ.
Given its statutory missio0n and the resources it can bring to bear at the border DHS clearly bears primary responsibility for the policing function. DOJ fully supports DHS in that endeavor by sharing relevant intelligence and by prosecuting the most egregious offenders DHS arrests in the course of its policing function.
While the cartels' primary business is drug trafficking, they also sponsor a panoply of other crimes that support their illegal operations. These other crimes include extortion, torture, murder, corruption of public officials, sheltering of wanted fugitives, kidnapping and human smuggling, laundering of illicit criminal proceeds through the existing financial system and through bulk cash smuggling, and the illegal acquisition, trafficking, and use of firearms and explosives.

It is in taking down these organized, multi-faceted criminal enterprises that DOJ plays the primary role and brings to bear its special expertise. DOJ's success in this endeavor assists, in turn, DHS in the performance of its policing and enforcement function, by disrupting the operations of the cartels, thereby decreasing the pressure on the border. For its part, DHS, and particular ICE, provides invaluable assistance to the attack on these criminal organizations, by bringing to bear its unique expertise on cross-border transit of contraband.
Multiple emails provided in the report show heavy communication from ATF about ICE involvement.

GOOD NEWS

The good news is, at one point ATF officials did try to exit Fast and Furious and even came up with a strategy to end the operation. Once the strategy was submitted for approval, it was delayed significantly and the program wasn't shut down until after Terry was murdered.

WHAT'S NEXT

According to sources on Capitol Hill, despite this "final" report being issued, the investigation into Operation Fast and Furious is far from over. The House of Representatives will begin legal proceedings "to enforce its prerogatives following the June 27, 2012, vote holding Eric H. Holder, Jr. in criminal and civil contempt." Once this case goes before a judge, Holder's responsibility to comply with an October 2011 subpoena will be determined along with whether President Obama's assertion of executive privilege in this case is valid.