When presidential candidate John Kerry pointed out that he voted for the Iraq War before he voted against the Iraq War, we all thought it a terrible gaffe. But politics, in a study of how politics leads to a devolutionary society, no longer sees campaigning as being for something before being against something as gaffe-worthy.
Yesterday's sex scandal can be today's mystique, if you are just willing to afterward reveal to teenagers on TV what kind of underwear you favor.
So it's with this quaint notion that right can be made wrong- and vice a versa- if you just are brave enough to ask people to lower their standards by this much: <---> (not actual size…actually much, much smaller) that we address Democrat energy policy- or lack thereof- depending on your standards… or lack thereof.
It turns out that being for having an energy policy before being against it –or vice a versa- it isn't a gaffe at all; no, indeed.
Under Obama, the Democrats have made it part of the party platform.
---
---
For example, did you know that president Obama has been a champion of Big Oil since he became our Chameleon-in-Chief?
That's right: Oil production is at an all time high under- hurray!- his administration because he's been so cooperative with oil and gas producers- and, depending on your standards, or lack thereof, you might even believe him when he says it.
Last year the New York Times was so disgusted with Obama's landmark, much-billed energy policy speech that they actually issued this correction:
This article has been revised to reflect the following correction:
Correction: March 30, 2011
A previous version of this article misstated how many of the president's proposals to reduce the country's reliance on imported oil were new in his speech on Wednesday. None of them were, not one of them.
So let's you, me and the New York Times agree that Obama really doesn't have an energy policy. Recently Obama reinforced that notion, when he tried to sell us on the idea that he's responsible for increased oil production. Please.
You see, Obama was against oil production before his newest, bestest policy, just recently embraced 72 hours ago, that- to paraphrase him- says: "Drill, Barry, drill."
His change of heart <hack, cough>, or lack thereof, has come about in wake of the administration's latest self-inflicted gunshot wound to the economy, rising oil prices… again.
For decades the basic policy of all US governments, Democrat or Republican, has been to keep oil prices relatively low and relatively stable. To argue a contrary policy, as Obama has done, would be like arguing that a higher crime rate leads to less crime because we'd end up getting more criminals off the street and in to jail. Crime rates would certainly go up, if we encouraged it.
So it goes with oil prices.
Since Democrats took over Congress in 2007, we've gone from relatively stable oil prices to all time highs, a small correction, and now we are headed back to all-time highs...again. We have neither low prices, nor stable prices.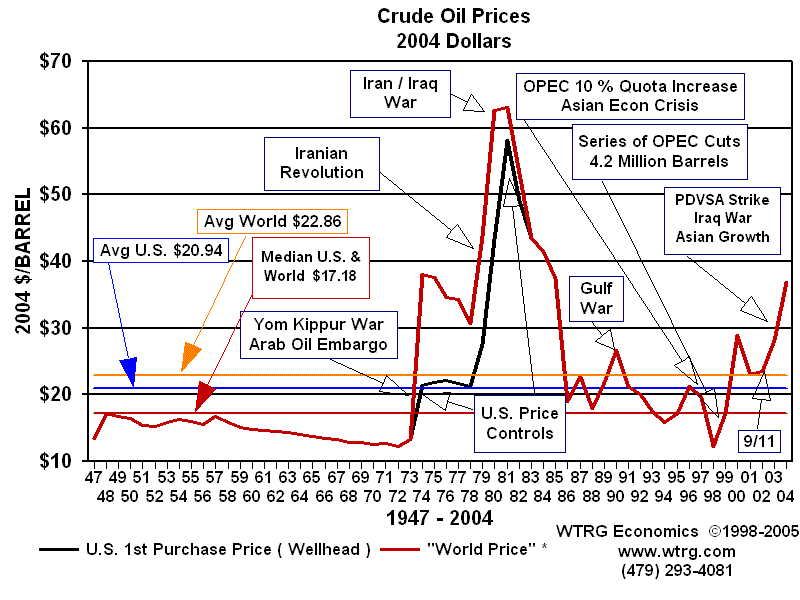 Chart provided by WTRG.com


And oil prices have been rising during a jobs recession masquerading as Obama's Summer of Love or Day of Rage. Just wait to see what oil prices do when we have real economic growth. But of course we neither have had growth nor will we grow under these self-defeating economic and energy policies, which are really the same thing.

Makes you wonder if the same bright federal lights who illegally sold guns to Mexican meth dealers are also in charge of energy policy (see Solyndra). It's the only explanation that I can come up with for the willful blindness that allows the Obamanauts to not see that their energy policy, like their policy on gun-walking, WON'T END WELL.

Economies around the world have been reeling and tottering on the brink of disaster: Japan? Recession, Europe? Recession. China? Double Secret Recession.

Rising oil prices won't help.

And this just in: Guess who has the largest amount of oil reserves in history? That's right: the U-S-A.

"In fact, the U.S. has a mind-boggling 1.4 trillion barrels of oil," writes Investors Business Daily, "enough to 'fuel the present needs in the U.S. for around 250 years,' according to the Institute for Energy Research. The problem is the government has put most of this supply off limits."

We have lots of recoverable oil it seems, but we don't have a recoverable president of the United States.
China, Japan and Europe, with a combined $30.6 trillion in GDP, are responsible for almost half the economic output of the world. Despite contraction in those economies, oil prices are still making new all-time highs. Basic supply and demand, if supply and demand weren't artificially restricted and inflated by our genius central planners at central banks around the world, should have oil prices going down, not up to new all-time highs.
We are in the midst of repeating exactly what happened in 2008: A world economy already sputtering, faced rapidly rising oil prices until oil prices collapsed, taking everything else with it.
Built to last? This newest oil bubble? Maybe. But I tend to think of oil as the real estate play of 2012. In 2011 we at least needed bad, bad news to chase oil prices up. Now it's just happening on its own.
The so-called soft-patch economy we've been in since last year has been the result of spiking oil prices as much as anything. Last year at this time, a red flag was going up on all the great economic news Obama was bragging about. The red flag was oil prices that were spiking to two year highs on news out of Libya regarding regime change and news out of Japan about the tsunami. One extended soft-patch later, the lesson that seems to be lost on the administration is that oil prices do have a direct effect on US economic growth.
If oil prices stay high, this time, it just means the US economy will be slowed to a standstill- again, if it ever really has grown in real terms rather than just inflated. On the other hand, if oil prices collapse, it just means the financial losses in the oil patch will ripple throughout markets. And these are markets that have more assets, concentrated in fewer places than was true in 2008- in other words they are much too bigger to fail than last time we had to bailout troubled assets.
And remember Obama fixed too big to fail. Let's hope that he doesn't have to try to prove it. That has the makings of Tyson-Holyfield Part III. We'll be lucky if someone just loses an ear, so to say.
Because far from ensuring more production of oil, Obama has done everything he can to restrict oil production at a time when the country has finally discovered enough oil to become a net exporter of petroleum. Obama, in fact, has concentrated oil assets in fewer distribution outlets and the result has been higher prices.
"The administration's actions and its policy proposals on domestic oil and natural gas development are out of synch with its words," says the president of the American Petroleum Institute (API). Oil producers, who API represents, actually benefit from these high prices. "The administration is restricting where oil and natural gas development may occur, leasing less often, shortening lease terms, going slow on permit approvals, and increasing or threatening to increase industry's development costs through higher taxes, higher royalty rates, higher minimum lease bids, and more regulations."
Contrast oil prices with natural gas prices which "plunged 32 percent in 2011 to end the year at $2.989 per million British thermal units for the largest annual decline in half a decade," reports Bloomberg. "Since then, gas fell another 12 percent, thanks to mild North American weather that crimped demand for the fuel to run furnaces and added to the surfeit."
The difference between gas and oil?
"Fracking has opened up vast areas of [natural gas] development on a scale that's practically overwhelming for the industry," said William Dutcher, president of Dutcher and Co., an Oklahoma City- based operator of 1,300 oil and gas wells," according to Bloomberg. And now Obama supporters are trying to kill fracking as well.
Efforts to stimulate the economy- which are likely more widespread than either the Fed or the White House are willing to admit- without addressing the US domestic oil supply issues will just have the effect of raising oil prices even higher as more and more dollars chase up commodities like oil. The administration seems to be caught in a vicious cycle of central bank stimulus measures that inflate our economy, followed by a collapse of economic growth because of inflation, followed by renewed central bank stimulus measures, followed by inflation, followed by….
It's that unknown "followed by" that's really scary. And it's real too.
Just ask the millions who have stopped looking for work, permanently.
So? What about those jobs?
They're going into your gas tank via Middle East oil, while our surplus oil remains in the ground.
That's a standard, or lack thereof, that Obama seems to have always been for even when he says he's against it.
Note: The dead Marines killed in a training accident have been identified. Please keep them and their families in your prayers. If you know a Marine, or a former Marine, do something nice for them this week.
Being in the military is a hard, dangerous, uncomfortable business at peace or in war. They volunteer their freedom and security, so you can have both. Pay them back.
---
"Like" me on Facebook and you'll get sneak peaks of columns and, as an added bonus, I will never raise your taxes. Send me email and I just might mention you on Sunday.