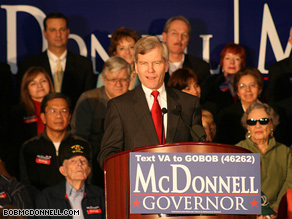 The New York Times reports that,


Christopher J. Christie a former prosecutor who sent a parade of corrupt New Jersey politicians to prison, handily won the Republican nomination for governor on Tuesday, earning the right to try to dislodge the state's embattled Democratic incumbent, Jon S. Corzine.


Corzine, of course, has become very unpopular, so this is a real race.

Christie defeated a small town mayor named Steve Lonegan. While Lonegan is a good conservative -- probably a better conservative than Christie -- there is little doubt that the most electable Republican won.

Of course, there is no doubt that Gov. Corzine's -- and the entire Democratic establishment -- will pour in millions of dollars to try to re-elect Corzine, but regardless, you've still got to think that this is a very real opportunity for Republicans to win.

Meanwhile, on Saturday, Virginia Republicans nominated Bob McDonnell to be their gubernatorial candidate. Virginia, which has odd year state elections, has a long history of voting against the incumbent president's party. For example, when George W. Bush won in 2000 and 2004, Democrats were elected governor in 2001 and 2005. The opposite was true in the 90s when Bill Clinton was president.

McDonnell was unopposed for the nomination, which is in stark contrast to the bitter Democratic primary already taking place between former DNC Chairman (and Clinton pal) Terry McAuliff, former State Delegate Brian Moran (brother of Congressman Jim Moran), and State Senator Creigh Deeds.

A new poll shows the Democratic primary is, as one blog wrote, "neck-and-neck-and-neck."

Aside from the fact that Democrats are having a primary battle to begin with, their election won't take place until June 9. And because they opted for a primary (rather than a state convention as the Republican Party of Virginia did), Democrats are airing their dirty laundry to a much wider audience.

All of this, of course, means that Republicans have a very real chance to replace Democrat gubernatorial seats in the only two such elections taking place in 2009 (in Virginia, governors cannot succeed themselves, so current governor Tim Kaine cannot run for re-election).

This, of course, is essentially a win/win for Republicans. These are Democratic seats, so the worst case scenario is they remain Democratic seats. But if Republicans can win even one of the two seats -- a very real possibility -- Republicans will use the momentum to argue that the tide has changed and that they will do much better in 2010. Momentum isn't just hype -- creating the impression that you can win is helpful when it comes to recruiting strong candidates to run for other offices.

Both Christie in New Jersey and McDonnell in Virginia are well positioned to win. Neither will turn off the conservative base -- but both can appeal to a diverse audience. Because I live in Northern Virginia, I can tell you that McDonnell is already doing a good job of running TV ads that focus on issues like jobs and transportation.

Keep a close eye on New Jersey and Virginia. It will be worth watching!