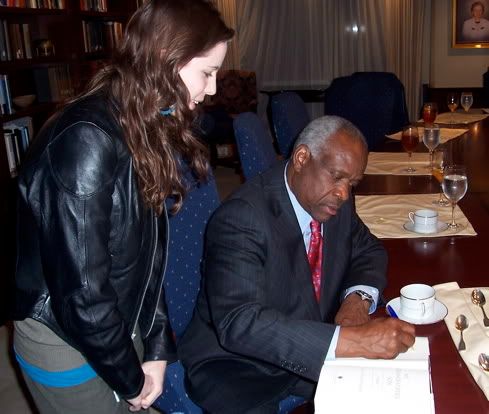 Justice Clarence Thomas and I talk Georgia Bulldog football while he signs a book for me. Thomas, a Georgia native, gave the team a pep talk not too long ago. I'm confident it pulled them out of what could have been a post-South-Carolina-loss slump.



I got to have dinner with the Justice on Monday. He's an entertainer and his new book is beautifully, beautifully written. Here's my column on it:

It becomes very clear in listening to Thomas, and in reading his new book, what is really important to the Justice, and it is most certainly not the Anita Hill controversy that has unfortunately come to define him for some Americans.

It is also not the fawning affection of media and D.C. elites:

"Hey, I'd have to become a Middle Eastern dictator with nuclear weapons to be invited to Columbia. I'm just not interested in that."