"This isn't a story about black people— it's a story about the Left's agenda to patronize blacks and lie to everyone else."
She's given you eight New York Times Bestsellers and now Townhall has learned Ann Coulter is back with another heavy hitter bound to make liberals scream racism louder than they ever have before. Every year Americans wait on the edge of their seats to see what Coulter has been up to. Her latest project is currently listed as "untitled" on Amazon, but we have all the details. This time she exposes how the 2012 Obama campaign is going to "inspire the greatest racial guilt-mongering of all time" in Mugged: Racial Demagoguery From the Seventies to Obama, set for debut on October 2.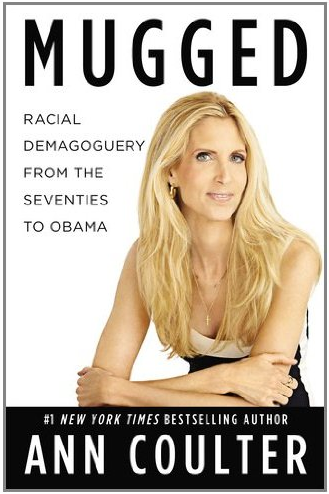 Coulter exclusively tells Townhall, "IT'S SO GOOD!!!!!!!!!!!!!!! It's a blockbuster."
Coulter is going where no author has gone before, to "explore the racial demagoguery that has mugged America since the early seventies," and expose the lies surrounding the Duke lacross scandal, Tawana Brawley, Lemrick Nelson, Howard Beach, N.Y., the L.A. riots and more.
From Mugged:
Obama has repeatedly returned to the well of racial divisiveness to serve his political ends. His 2008 presidential campaign managed to revive the white guilt that had long since dissipated and then hinted that the one path to racial reconciliation was to make him president. Only then could we stop talking about race—a conversation he had initiated in the first place.

Alas, since he's been president, that's all we talk about.

The Obama presidency has been like the David Dinkins New York City mayoralty all over again, with utter incompetence being papered over with appeals to white guilt.

At least Sandra Day O'Connor gave us a time limit on how much longer government discrimination against white people would be legal to make up for the historical injustices: 25 years.

With the Democrats it never ends.
Coulter calls out the Left for appointing themselves to positions as "heroes in an ongoing civil rights movement—which they were mostly absent from at the time. Long after pervasive racial discrimination ended, they kept pretending America was being run by the Klan and that liberals were black America's only protectors."
And, Coulter of course specifically tears President Obama's racial posturing, and the liberals who fawn over him for doing so, to shreds.
It took the O. J. Simpson verdict—the race-based acquittal of a spectacularly guilty black celebrity as blacks across America erupted in cheers—to shut down the white guilt bank.

But now, fewer than two decades later, our "postracial" president has returned us to the pre-OJ era of nonstop racial posturing. A half-black, half-white Democrat, not descended from American slaves, has brought racial unrest back with a whoop.

The Obama candidacy allowed liberals to engage in self-righteousness about race and get a hard-core Leftie in the White House at the same time. In 2008, we were told the only way for the nation to move past race was to elect him as president. And 53 percent of voters fell for it.
Interested in learning the real history of race relations in America? Ann Coulter delivers in epic fashion with Mugged.