How much does it cost to have dinner with Pentagon bomber Bill Ayers? The Public Square, an organization dedicated to promoting "social justice," is auctioning plates for it's 10th anniversary dinner in Chicago, bidding starts at $350.
Enjoy an unforgettable and scintillating dinner for a party of six cooked by veteran activists and educators Bill Ayers and Bernardine Dohrn. Fascinating conversation over a meal is the agenda for this special evening.

William Ayers, Distinguished Professor of Education and Senior University Scholar at the University of Illinois at Chicago (retired), has written extensively about social justice, democracy and education, the cultural contexts of schooling and teaching as an essentially intellectual, ethical, and political enterprise. He is currently the vice-president of the curriculum studies division of the American Educational Research Association.

Bernardine Dorhn, Clinical Associate Professor of Law at Northwestern University and founder of the Children and Family Justice Center, is a child advocate who teaches, lectures and writes about children's law, juvenile justice, the needs and rights of youth, and international human rights. With Steven A. Drizin, she is co-founder of the Center on the Wrongful Conviction of Youth.

Dinner will be arranged on a mutually agreed upon date before September 30, 2012. All sales are final.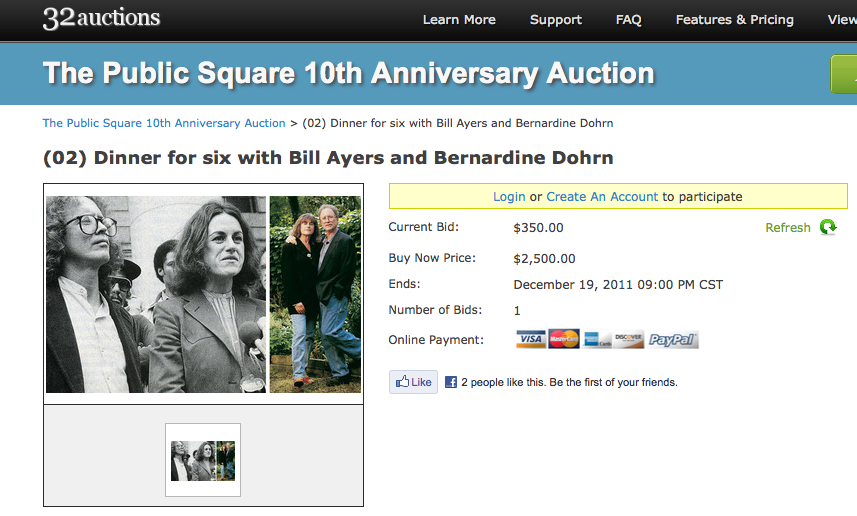 Veteran activists? How about veteran bombers? I guess it depends on what the definition of "activism" is.