The GOP candidates are slowly starting to arrive here in Tampa, and the chatter on the ground is about Rick Perry vs. Romney and the issue of Social Security. Sarah Palin's name is also being thrown around, but, let's focus on the candidates who will be on the stage tonight.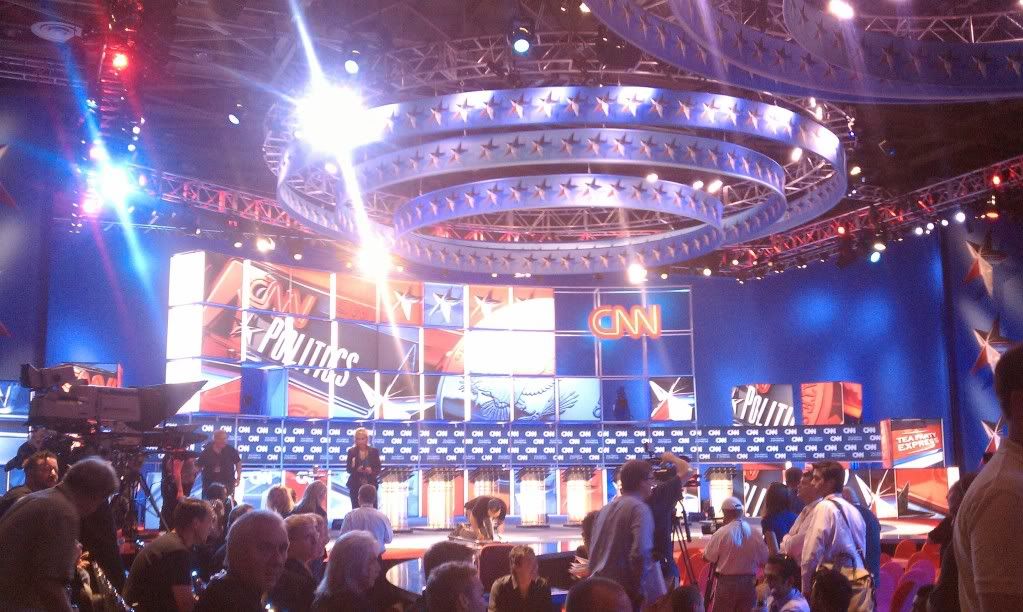 Perry – Fresh off of an endorsement from Louisiana Governor Bobby Jindal, Texas Governor Rick Perry is way out in front of all candidates participating in tonight's CNN/Tea Party Express debate. In CNN's latest poll, Perry is beating Romney 30-18. Perry's first performance as a GOP presidential candidate last week during the MSNBC/POLTICO debate wasn't stellar, his answers weren't always focused, but that gives Perry the chance to improve as the race continues. Expect to see him staunchly defending his stance that Social Security is a Ponzi scheme (because it is) and going toe-to-toe with Mitt Romney once again, as he will be standing center stage next to him. Some saw controversy with Perry's "Ponzi-scheme" remarks, but many others applauded him for his honesty about the program. Perry was also the only candidate last week to directly address youth voters, the same demographic that launched Barack Obama to the White House in 2008. CNN has promised to give each candidate a fair amount of questions, however, don't be surprised if we see Perry fielding the majority of them because he's still the new kid on the block.

Romney – Former Massachusetts Governor Mitt Romney has been running ads and sending out press releases all week about how "irresponsible" Rick Perry's stance on Social Security is, and quite frankly, Romney is going to have to work on not sounding like a democrat tonight, especially with an audience made up of tea party activists who he has a rocky and awkward relationship with. In order to take the focus off of RomneyCare, he'll have to shift the focus to his private sector experience and hit Obama on his failed jobs record, rather than fighting with Perry. Romney also received an endorsement this morning from former Minnesota Governor and GOP presidential candidate Tim Pawlenty.

Bachmann – In order to remain a key player, or a player at all in the GOP race, Michele Bachmann is going to have to step it up way up tonight. Between Perry's surge, being nearly ignored during the MSNBC/POLITICO debate by moderators and slipping poll numbers (she is now in the single digits), Bachmann will have to offer solid answers on every question she is asked. The good news for her tonight is she's speaking to a friendly audience and has been a darling of the tea party from the beginning of the movement.

Paul – Texas Rep. Ron Paul drew heavy criticism last week for his comments about a border fence having the potential to "keep people in" and for implying that pulling the plug on air-conditioning for troops oversees would make them want to come home, however, Paul's strongest polices are fiscal, which are the polices in focus for tonight and as always, Paul has a strong following of supporters.

Huntsman – Former Utah Governor Jon Huntsman spent the majority of the previous debate talking down to other candidates when he should have spent his time explaining his economic plan, which has been endorsed by the Wall Street Journal. With a tea party crowd, Huntsman has an opportunity to make a slight comeback, but in order to distract away from his moderate policies and connections to the Obama Administration, he'll have to present his own ideas for economic growth.

Cain – Tonight could be really successful for business man Herman Cain, who as most know by now has no "political" experience but managed a company of 14 million people as a CEO and has been heavily supported by the tea party since he entered the GOP race. Cain has also been taking on healthcare mandates since 1994 when he debated former President Bill Clinton over his plan and if given the opportunity, could hit Romney pretty hard on his healthcare mandate in Massachusetts.

Gingrich – Expect former Speaker of the House Newt Gingrich to duke it out with CNN's Wolf Blitzer tonight. He'll give solid answers not against his fellow GOP candidates, but against President Obama.

Santorum – Like Bachmann, former Pennsylvania Senator Rick Santorum will have to give solid, memorable answers to questions asked of him tonight. In the last debate, we couldn't recall anything he said, partially because Perry, Romney, Huntsman and Paul were asked nearly all the questions, but also because Santorum didn't answer questions in a way viewers would remember.



Tonight's debate airs live from the Florida State Fairgrounds in Tampa at 8 p.m. ET on CNN. Overall, considering this is a tea party debate, I doubt we'll hear much about where candidates stand on social issues. Questions will be focused on the economy, government spending and job growth and I expect President Obama's new $447 billion jobs plan, being paid for through tax hikes, will be brought up as an example of what the tea party is not looking for in a candidate. Perry's record will also be the focus, which will give Romney a chance to avoid being a punching bag. I would also like to give CNN credit for partnering with a tea party group for a major political debate, it shows the news outlet has moved beyond false accusations that the tea party is full of a bunch of hobbit, barbarian, terrorist, nazi, hostage taking son of b*tches and sees the tea party as a powerful, credible force in politics.