GOP Presidential hopeful Herman Cain may not have the highest name recognition, but he has been making waves among the 2012 GOP field and new Gallup Poll shows Cain has the highest positive intensity score.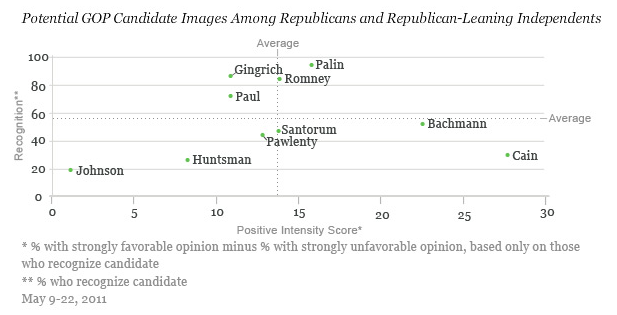 Cain is also number one in a new Zogby poll, inching past New Jersey Governor Chris Christie, who insists he isn't running for President.



Cain announced his official run for the White House on Saturday to a group of over 15,000 people. In an interview with Townhall, Cain said his campaign expected a 5,000 person turnout at a rally held in Atlanta, Georgia.
"It was a beautiful site. That many people expressing their support for me, my message and my candicacy. It was absolutely one of the most inspiring moments I've ever had in my life," he said. "I've never spoken in front of a group where thousands of people who just to come hear me, see me and wish me well in this presidential campaign."

Cain is expecting a tough primary fight and believes winning the GOP nomination will be harder than ultimately beating Barack Obama.
"In a primary I'm going to be up against seven or eight people who have been pulling and trying to raise the same dollars I'm trying to raise. So getting through the primary I think is going to be tougher than beating Barack Obama," he said, acknowledging that although the primary will be a battle, beating Obama won't be easy either and said he also has the challenge of fighting a GOP establishment machine.
"A lot of people don't think I've got a shot," he said. "They [establishment republicans] obviously are out of touch with the real folks. The real folks don't seem to have a problem with my candidacy."
"Let me tell you what the establishment republicans know how to do. They know how to lose," he said. "We've had enough dull and boring candidates, that's why the republicans keep losing."
But why is Cain running?
"I could not sit back and watch the direction of the country and not do whatever I could do. I may get the nomination, I may not. I may get elected president, I may not.But I'll be able to sit down in that rocking chair one day when I can't do anything except sit in a rocking chair and watch tv and I will be able to say, 'I did everything I could to save this country."

"This will be a true test of my leadership skills, organizational skills, communication skills, let me tell you, I'm going to test every skill I have," "It's going to test every skill that I have, but on the other hand, those are the skills that I need to be successful to be the President of the United States of America."

"We are a nation of crisis. We have a moral crisis, an economic crisis, entitlement spending crisis, we have an energy crisis, we've got a foggy foreign policy crisis, we've got a leadership deficiency crisis. We have to work on all of those simultaneously. None of those can afford to be put on the back burner."