Popular theory places Michigan in the "Obama" column come this November. Indeed, my beloved home state is a union-based blue stronghold, with groups like the UAW and the MEA (teachers' union) traditionally exerting quite a bit of power over the political atmosphere. Furthermore, the Obama reelection campaign had no real reason to suspect the Mitten would swing to the right this year, especially given Mitt Romney's locally unpopular stance on the auto bailouts.
However, early fundraising numbers suggest that Mitt may be more competative in Michigan than anyone previously thought. As of March 1, Romney had the higher fundraising total over Obama, leading him $2 million to $1.6 million.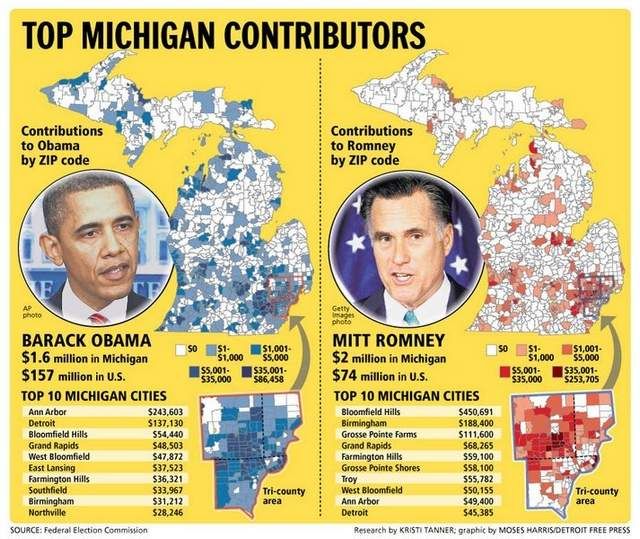 As a side note, the graphic reveals an extremely important fact, finally codifying what I and many other East Lansing natives already knew to be true: Ann Arbor is where you go if you're prone to making terrible decisions. (Note, it's the city that has donated the most money to Obama...and, it's home to the abhorrent University of Michigan. Go Green!!!)
On a more serious note, however, the data reveals curious information about Michigan's state of play in the 2012 general election. For instance, while Obama is on track to hit projected fundraising totals for 2012, the numbers are lower than they were at this point in time in 2008 -- months before he had wrapped up the primary against Hillary Clinton, meaning he lacked the full support of the Democratic Party. Now, despite the fact that he has the party apparatus backing him up -- and presumably, the support of the influential auto unions -- he's still not raking in cash hand-over-fist as he did last time around.
Of course, it's always fruitful to look at donor profiles, and this is where things get a bit tricky for Romney: he has a smaller pool of big donors, while Obama has a larger pool of small ones.
Obama's campaign did better in Ann Arbor, Detroit, East Lansing and Northville, among others, and his campaign has raised money in a lot more places in Michigan than Romney has. His reports list contributions from 421 cities, compared with 229 for Romney. The president has more donors, too -- 3,242 to Romney's 1,445 (though some names may be double-counted because of slight differences in the records).

Obama and Romney each have one Michigan city that towers above all others for fund-raising power.

For Obama, it's Ann Arbor, where his campaign has collected $243,603 -- well over $100,000 more than Detroit, which ranks second. University of Michigan employees account for more than one-fourth of the total.

At $450,691, Romney's sweet spot is Bloomfield Hills, where he grew up. Another Oakland County community, Birmingham, ranks second at $188,400.

By occupation, Romney gets more money from homemakers -- $235,000 -- than any other group, while Obama gets the most from retirees at $450,000 and lawyers at $179,000.

But Romney has gotten the bigger checks. Obama's donors, on average, have contributed $489; Romney's, $1,383.
So Obama seems to be drawing from a broader base of smaller support, although it's worth mentioning that he'll be attending two high-donor fundraisers in the Detroit suburbs that are slated to make him up to $1 million more. That's the area from which Romney has been drawing most of his support as of now, and the one he'll have to capture if he has any hope of eking out a victory in Michigan. Obama has an automatic base of support in university communities like Ann Arbor and East Lansing, as well as the state's largest urban center, Detroit. Now, it seems, he's courting the suburbanites as well.
It seems Romney's early fundraising lead has paid off to some extent: polls show that he's starting to close in on voter support in the Great Lakes state. He's now within the margin of error, trailing Obama by four points:
It's hard to say whether Michigan will be a battleground in the fall, but a poll released last week by Lansing-based EPIC-MRA showed Obama's lead over Romney in Michigan shrinking to 47%-43%, down from 48%-40% in January. The poll had a margin of error of plus or minus 4 percentage points.

"Money raised in a state certainly doesn't always translate into votes," acknowledged Republican consultant John Truscott. But Romney's money advantage in Michigan -- compared with the campaign cash lead Obama enjoys nationally -- is of note, if only because it could help Romney gauge whether the state is in play in November.
As far as optics are concerned, it goes without saying that it looks good for Romney to win his home state. Furthermore, competing in Michigan -- a state still experiencing economic turbulence -- would bolster his case against Obama over the election's biggest issue. Hey, this Democratic stalwart of a state went red in 2010 with Rick Snyder, so perhaps Romney can win over the Michiganders yet.