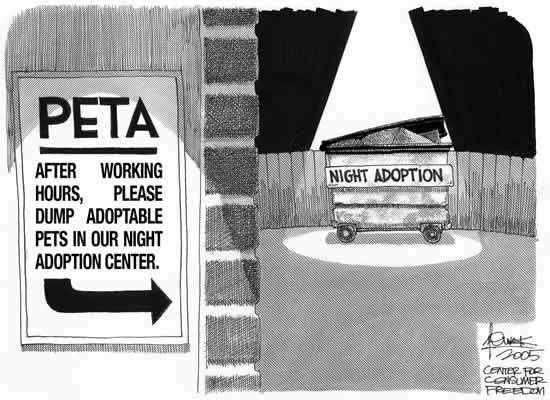 To some Americans, PETA may seem like a caring organization. Sure, you may say, they are a bit extreme -- but it's in defense of animals, after all.

... But have you stopped to consider just why PETA picks certain targets to go after?

Maybe it makes sense that they've gone after McDonalds and KFC -- until you wonder: Why McDonald's and not Wendy's, and why KFC and not Popeye's? ... And why go after MasterCard instead of Visa or American Express -- or the Gap instead of ... whoever else sells Gap-ish stuff?

The answer, of course, is money. PETA took in more than $34 million in 2008. Much of the money comes through legal kickbacks and grants, via their "partners".

Much of their money comes from selling PETA's "seal of approval." And interestingly, many of PETA's "recommended products" also happen to directly compete with the companies they attack.

For example, PETA went after MasterCard for sponsoring the Ringling Bros Circus, and launched a "NastyCard" campaign. PETA then entered into a deal with VISA to offer a PETA Platinum card. And, of course, PETA received 1 percent of purchases made with a PETA branded VISA card. That's big money -- all for doing essentially nothing.

PETA also went after IAMS dog food, launching an "IamsCruelty" campaign. This, despite the fact that IAMS has been recognized as a leader in animal welfare advocacy. Interestingly, though, it turns out that PETA receives 8 percent of all proceeds from a partnership they have with a "holistic" pet food.

Over the last several years, PETA has grown from a radical fringe group that claimed to care about animal rights, into an organization that uses its influence to shake down companies -- and to build multi-million dollar fundraising relationships with "partners".

In fact, it seems PETA is so busy making money that they forgot to help animals. According to www.PETAkillsanimals.com, PETA found homes for less than one out of every 300 animals, and they killed 95% of the dogs and cats in their care.

To say PETA is a questionable organization is being nice...to say it is a sham is more accurate. They used PETA a fur-loving burlesque queen, Dita

von

Teese

, as a spokesmodel without any homework to find out she loved fur.



In her book, von Teese wrote "Who wouldn't love an opportunity to don a cuff of mink given them as a gift, or to wrap a luscious stole of fox around her shoulders on a chilly day? (I guess there are some people out there that wouldn't want to, but I am definitely not one of them!)" Isn't that one of their pet, sorry for the pun, causes - going after fur?





"

PETA's

totally aware of me," Von Teese told People Magazine back in 2007 before perf

orming – in fox fur for a Macy's Passport AIDS benefit, adding "I'm not working with PETA to tell people to be vegetarians or to stop wearing fur. I am there to strictly speak about spaying and neutering your pets."





The animal-rights organization says it was aware of Von

Teese's

fur affections before approaching her to star in its campaign.



Combine the fact they will use mafia type tactics to bleed companies, rarely actually help animals, and look past core issues to hire a spokesmodel only illustrates how much they are a sham. Sadly, the media on the left fail to illustrate this point.