Late Friday afternoon, Senator Grassley and Congressman Darrell Issa sent a letter to DOJ Inspector General Michael Horowitz. Their concern? More ATF whistleblower retaliation. It has been well documented that ATF likes to retaliate against those who tell the truth to expose corruption within the bureau. Whether it's the case of ATF Special Agent Jay Dobyns, Vince Cefalu, John Dodson and others. However, it seems the retaliation is even worse than previously known.
According to the letter, in an eye witness account, ATF Chief of Public Affairs Scott Thomasson was none too pleased allegations of gunwalking during Operation Fast and Furious had gone public in the Spring of 2011. He allegedly stated, "All of these whistleblowers have axes to grind. ATF needs to f--k these guys," and "we need to get whatever dirt we can on these guys and take them down"
When Thomasson was asked about the allegations against him of whistleblower retaliation were true, he allegedly said he "didn't know and didn't care," according to Oversight Committee investigators. Grassley and Issa are concerned because two of the main Fast and Furious whistleblowers were placed under Thomasson's supervision. Thomasson was part of crafting the response to Grassley's initial inquiry about gunwalking allegations in early 2011. The official response to Grassley's inquiry came in the form of the infamous February 4 letter flat out denying gunwalking tactics were used that was so full of falsehoods and misleading statements, it was withdrawn.
Grassley and Issa are asking Horowitz to determine the following:
1) what steps the Department has taken, if any, to admonish Thomasson about such retaliatory remarks 2)how someone who expressed Thomasson's contempt for whistleblowers was chosen to become the Division Chief of the Firearms Operations Unit and given supervisory responsibility over those very same whistleblowers, and 3) what steps, if any, are being taken to ensure that Thomasson does not use his new position to engage in a campaign of retaliation along the lines he express a desire to conduct last year.
Grassley and Issa also released new documents Friday that further prove ATF was engaged in a cover-up immediately following the murder of Border Patrol Agent Brian Terry.
The following email is from Thomasson to former Special Agent in Charge of the Phoenix Field Division Bill Newell, who to this day claims ATF never walked guns into Mexico.
What Newell didn't mention in his statement Thomasson praised is that it was ATF ordering gun dealers to sell to straw purchasers throughout 2010 during Operation Fast and Furious. ATF created it's own straw purchasing problem and the only reason the straw purchasers Newell referred to in his quote were able to acquire large quantities of firearms was because ATF told gun dealers to ignore false identification and suspicious wads of cash being used. The norm from ATF to dealers was, "sell as much as they order." ATF knew who the straw purchasers in Operation Fast and Furious were before they even walked through the gun dealer door to buy their weapons.
A newly released ATF public affairs official statement document dated January 12, 2011 also shows an effort to engage in a full scale coverup.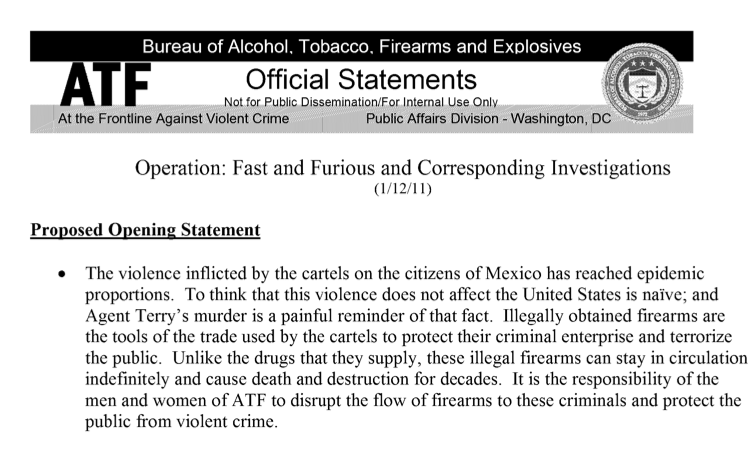 Once again, ATF fails to mention the firearms used to kill Terry were funneled to the cartels by ATF through Operation Fast and Furious. ATF gave the cartels the "tools of the trade," and while the official document above states "it is the responsibility of the men and women of ATF to disrupt the flow of firearms to these criminals and protect the public from violent crime," ATF and Newell were doing exactly the opposite.
The document also prepares ATF officials for press questions and uses Terry's murder as an example of why the bureau is focused on "stemming the flow" of guns into Mexico.
• Some media reports, referencing an anonymous ATF official, claim that ATF knowingly "walked" about 1,900 firearms across the U.S.-Mexico border as part of this operation. What can you tell me about that?
Or
• The news release/indictment indicates that ATF waited until nearly 2,000 guns were illegally purchased before arresting the straw buyers in this case. Why did ATF wait so long?


ANSWER: It's not against the law for an individual to purchase 10,20 or 50 or even 100 guns at one time. It's not illegal to own or possess hundreds of guns; however, it is illegal to straw purchase firearms for those who cannot possess them legally. (Pavlich note: this line is important because we've been hearing the argument for 18 months that straw purchasing isn't illegal) Operation Fast and Furious became a long-term investigation because of the amount of time it took to gather enough evidence against those who were supplying these violent criminals with the tools of their trade. We needed to ensure that when we did arrest these individuals,
justice would be served. (Pavlich note: this line in completely misleading and disingenuous. ATF knew who the straw purchasers were, informed gun dealers of who they were and told the dealers to sell to those individuals anyway, making the argument to the dealers ATF agents needed to see where the guns were going up the cartel chain, although the guns were never actually followed but instead lost.)


ANSWER: Knowing what it takes to prosecute these types of federal violations is the best way to understand why this investigation took as long as it did and utilized so many resources. Investigations of this type are often long and complicated due to the fact that firearms are a legal commodity being diverted for illegal use. When conducting these investigations we have found that the end user of often shrouded by many layers of straw purchasers and middlemen whose sole purpose is to hide the connection between the first retail purchaser and the violent criminal. Determining when the firearm leaves legal commerce can be extremely difficult and therefore hard to prove.

Questions from press:


• Border Patrol Agent Brian A. Terry was shot and killed after he and his team encountered several suspects near Rio Rico, Ariz. At least four suspects are in custody while one is still being pursued. Was a gun trafficked in this case used in the murder?
Or
• We understand that a firearm bought in connection with this ATF investigation was used to murder Border Patrol Agent Brian A. Terry. Can you please comment on this information?


ANSWER: Agent Terry's death is the exact reason why we must continue going after those who are determined to destroy the lives of so many innocent individuals in our communities by plying their illicit trade. For those who would say it is Mexico's problem, I say Agent Terry's death and all of those who have perished because of this violence prove that this challenge belongs to everyone.

Issa introduced new Whistleblower protection legislation in November 2011. Retaliating against whistleblowers is a crime.
Chairman of the House Oversight Committee Darrell Issa, who has been leading the investigation into Operation Fast and Furious, introduced new legislation to reinforce provisions of the 1989 Whistleblower Protection Act. The reinforcement, known at the Whistleblower Protection Enhancement Act, is badly needed in light of Fast and Furious as retaliation against whistleblowers exposing corruption within the Bureau of Alcohol, Tobacco, Firearms and Explosives (ATF falls under the jurisdiction of the Justice Department) runs rampant. The legislation is bipartisan and is co-sponsored by Ranking Member of the House Oversight Committee Elijah Cummings.