Today is National College Colors Day and is the kick-off weekend of the 2011 College Football season.
This weekend 62 million pounds of beef will be consumed in celebration, which on its own is just pure awesome, but we've got some pretty die-hard (for the most part) college football fans here at Townhall who are ready to get the party started.
Here are our picks:
Townhall Magazine Deputy Managing Editor Elisabeth Meinecke:

I am a Notre Dame Fighting Irish fan because I believe in hope and change ... oh, wait. (Actually, I'm a fan because of their storied tradition and, let's face it, who doesn't love "Rudy?")
Political Editor Guy Benson (who is currently driving 12 hours to Boston for Northwestern's first game of the season):
I am a Northwestern Wildcats fanatic . NU is the only private school in the proud Big Ten conference -- of which we're a founding member. Despite decades of futility in the "Dark Ages," Wildcats football has experienced something of a renaissance over the last decade-and-a-half, competing in eight bowl games and winning three Big Ten championships during that stretch. A great source of pride within our small but loyal fanbase is that Northwestern manages to compete in big-time college football while maintaining our tradition of academic integrity. I'm heading to Boston this weekend to root on my 'Cats as they battle the Eagles of Boston College -- where I hope to have many opportunities to sing the best damn fight song in the land: The one, the only, our Go U Northwestern!
Associate Editor Erika Johnsen (our UVa "guys in ties, girls in pearls" girl):
Wahoowa! Wait, what just happened? Oh, pardon me, my mimosa needs refreshing.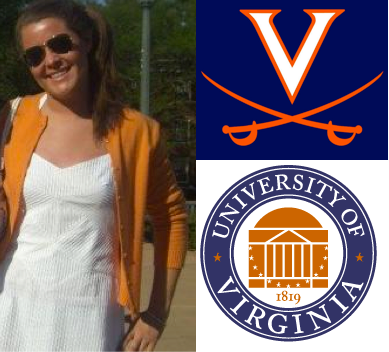 Online Editor Kate Hicks:
Having grown up in East Lansing, my team is obviously THE Michigan State University Spartans. In our last two seasons, we made huge strides in rebuilding our reputation as a strong football program, and I'm hoping we can solidify that with a bowl win this year. Aside from quality football, however, we also have the classiest quarterback in all of America: Kirk Cousins.
News Editor Katie Pavlich (I used to wait in line for hours just to get a front row seat):
Founded in 1885 (before Arizona was even a state!), The University of Arizona was the first and still is the only legitimate college in the Grand Canyon State, sorry I'm not sorry ASWho. I grew up as a die hard UA fan and it's my alma mater. Once a Wildcat, always a Wildcat! Bear Down and go CATS!
Marketing Coordinator Linlee Dubard (the biggest college football fan not only in the Townhall office, but possibly throughout the entire United States of America). In fact, because of Linlee's unwavering dedication to college football, she has been featured in the new book Gridiron Belles: A Guide to Saturdays in Dixie:
I am a die hard fan of the 'cocks because they are my hometown team as well as my alma mater. "I love to hear 2001 & feel Williams Brice rock. Oh what else can I say? Until my dying day, I'll be a South Carolina Gamecock!"
And now, a message from Kenny Chesney:
Let us know in the comment section who you are (or aren't) rooting for this season. Happy weekend everyone!