As ever, Americans enjoyed their July 4th holiday weekends with much gusto, celebrating with friends, fireworks, and flags. The Fourth of July is a day of heartfelt patriotic pride, recognition of American exceptionalism and diversity, admiration for our Founding Fathers' brilliance, and appreciation of the freedoms we daily experience.
Halfway around the world, China's one Party threw itself a party to celebrate the 90th anniversary of Communism. Weeks of planning and propaganda went into this major campaign to try and stir up some sort of maudlin sense of nationalism (not to be confused with patriotism), complete with mass choir red-song performances; the heralded premiere of a government-made film glorifying Chairman Mao; and President Hu's official speech venerating the critical importance of discipline and national unity.
Nice try, China – but it's just not the same thing.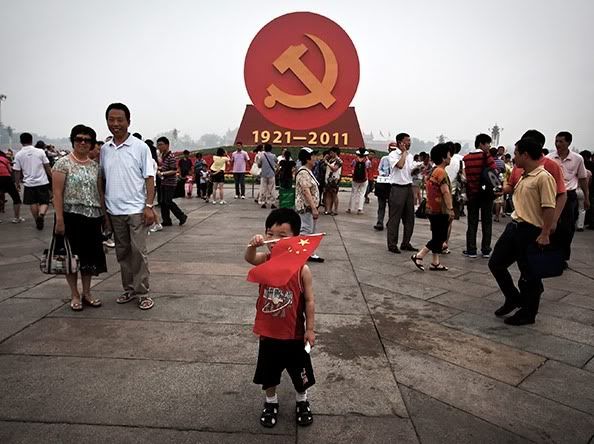 (Check out the Guardian's slideshow for a whole gamut of telling images.)
In other news, the World Trade Organization called shenanigans on China for its blatant attempt to pull a run-around on the global economic arena:
The United States, European Union and Mexico scored a major victory over China at the World Trade Organization on Tuesday as the WTO found China had illegally constrained its exports of raw materials.

The policies had the effect of reducing prices for Chinese downstream products and increasing costs for U.S. manufacturers.

When China joined the WTO it had agreed to stop restricting the export of key materials, including those used in steel and chemical manufacturing. The WTO found China had broken its commitments and failed to provide justification using existing exemptions in the WTO texts.

"China's extensive use of export restraints for protectionist economic gain is deeply troubling. China's policies provide substantial competitive advantages for downstream Chinese industries at the expense of non-Chinese users of these materials," U.S. Trade Representative Ron Kirk noted in a statement.
China was pretending that it needed to reduce its exports in order to conserve natural resources and reduce environmental pollution, but the WTO was not buying it.
Also: Worldwide social networkers enjoyed the recent rollout of the Google+ project, a potential rival for Facebook and a living example of the healthy free enterprise competition that expands consumer choice. Except in China. The Party responded by immediately firewalling the new website, and it remains pretty much blocked. Tough luck for anyone interested in the global exchange of information and ideas, that old chestnut!
To read more about the depraved state of human rights in the People's Republic of China, stay tuned for my piece in the upcoming August issue of Townhall Magazine – the situation is not pretty.