This morning I had the pleasure of visiting the Washington Marine Corps Barracks to attend the retirement ceremony of the USMC's longest serving mascot, Chesty XII.

The English Bulldog was awarded the Navy and Marine Medal of Honor for more than 6 years (that's around 42 dog years) of professional mascot service during which his commanding officer noted he had "endured the attention of hordes of children."


Chesty's retirement ceremony took place at the end of a practice session to prepare for the sunset parade, which the Marines hold every Friday evening for tourists and spectators at 8:45 p.m. During the ceremony Chesty XII was replaced as the USMC mascot by another English Bulldog, Chesty XIII. (All the Chesty mascots are named after the famed Marine, Chesty Puller.)

It was a lot of fun to watch and of course, spend the morning with all those good-looking Marines. Special thanks to Gunnery Sergeant Will Price for inviting me. And, check out his book Devil Dog Diary!

Here are some of my pics:

The "new" Chesty and the "old" Chesty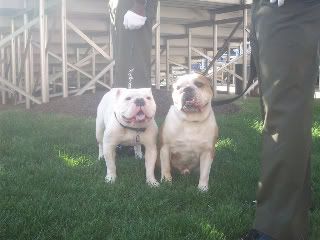 Waiting for the ceremony on the parade grounds at 8th and I.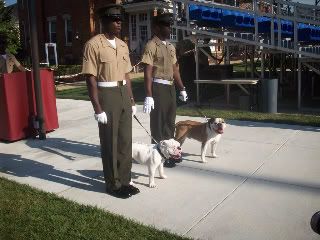 Petting the Chesties!