Update - Two more whoas:

Dzhokhar Tsarnaev had passed an apparently normal day at the school Wednesday, according to a UMass official, working out at the gym, then sleeping in his single-unit room at the Pine Dale Hall dorm that night, while law enforcement officials were frantically scanning photos and video trying to identify him and his brother.School officials know he was there Wednesday because of card swipes, but it was not clear if he had been there earlier. He was described as good, typical student who played intramural soccer. A student, who didn't want to be identified, said she saw Dzhokhar Tsarnaev at a party Wednesday night that was attended by some of his friends with whom he played intramural soccer. "He was just relaxed," she said.

Bomb a major city, kill an eight-year-old, then hit up a kegger with your bros two nights later. It doesn't even compute. One wonders if this kid was coached to return to his everyday life as to not arouse suspicion. If so, coached by whom? Let's US officials they capture him, for intel-gathering purposes. Plus:

FBI now acknowledges they interviewed Tsarnaev 2 years ago at the request of a foreign country about possible extremist ties

— CBS News (@CBSNews) April 19, 2013

Oh my.

Update - Boston has lifted its city-wide lockdown...even though authorities are openly admitting they have no idea where the second suspect is. He reportedly escaped on foot last night, despite being involved in a massive firefight and at least one car crash. (How?) I'm not sure entire cities should be shut down due to a single manhunt, but this strikes me as a bizarre time to re-open the city. "We don't know where he is, but TGIF, Boston! Have fun." Odd decision.


Update - A pair of jaw-dropping reports, presented without further comment:

From CBS'Bob Orr: FBIinterviewed Tamarlan Tsarnaev 2 yrs ago abt extremist ties, found nothing & closed file. More on CBS Evening News

— Major Garrett(@MajorCBS) April 19, 2013

And...

[Updated 4 p.m. Friday related to arrest versus conviction issue]: One of the Chechen terrorists who carried out the Boston Marathon bombings could have been deported years ago after a criminal arrest and/or conviction and the other was granted American citizenship on the 11th anniversary of the worst terrorist attack on U.S. soil. Tamerlan Tsarnaev, the 26-year-old killed in a wild shootout with police, was a legal U.S. resident who nevertheless could have been removed from the country after a 2009 domestic violence arrest and conviction, according to a Judicial Watch source. That means the Obama administration missed an opportunity to deport Tsarnaev but evidently didn't feel he represented a big enough threat. Other reporting confirms Tsarnaev's arrest for domestic violence but we're seeking confirmation of a conviction. Nevertheless he would have been subject to removal for the arrest itself.

If either, or both, of these items prove to be true, oh my.

Update - Though some members of the Tsarnaev family appear to be in serious denial, here's some significant evidence of guilt from the deceased suspect himself, via their outraged uncle:

Hours before his death, Tamerlan called his uncle and asked for forgiveness - revealing the news of his young family. Alvi Tsarnaev told The (Westchester County, N.Y.) Journal News that his nephew phoned him Thursday night for the first time in about two years. The call came at 7 p.m., just a couple of hours before Tamerlan was shot dead. "He said, 'I love you and forgive me,' " said Alvi Tsarnaev, who lives in Montgomery Village, Md.

Another thread of circumstantial, unconfirmed evidence: Someone calling himself, ahem, "Tamerlan Tsarnaev" created a YouTube account that featured a number of Islamist videos:

The account, listed under the name Tamerlan Tsarnaev and identified as active since August 2012, includes two videos under the sub-category "terrorists." It also includes seven videos filed under "Islam," five under "favorite videos" and three under "Timur Mucuraev," a popular Chechen singer. Both of the videos filed under "terrorists" cannot be viewed as they have been removed from YouTube since the owner of the account had added them. An error page says that the account that had originally posted the videos has been terminated, a common YouTube response to hate speech videos of incitements to violence. The videos were likely removed long before Friday's news.

So there's that.

Update: Seven IEDs have been recovered:
#Boston Manhunt: 7 IEDS recovered, 200 rounds exchanged in overnight gunfight bit.ly/YA91wL

— NBC 7 San Diego (@nbcsandiego) April 19, 2013
Update: A profile of dead bombing suspect Tamarian Tsarnaev:
Update: Really? On campus?

Update: Per Dzhokhar Tsarnaev's alleged Twitter account, he was a 9/11 truther?

UPDATE: Media outlets are reporting a police search for a Green Honda Sedan--apparently it was found hours ago and authorities have not been looking for the vehicle.
Update: Via Buzzfeed, Russian-backed president of Chechnya, Ramzan Kadyrov, apparently released a statement on Instagram blaming the US for the attitudes and beliefs the Tsarnaev brothers developed:
Tragic events have taken place in Boston. A terrorist attack killed people. We have already expressed our condolences to the people of the city and to the American people. Today, the media reports, one Tsarnaev was killed as [police] tried to arrest him. It would be appropriate if he was detained and investigated, and the circumstances and the extent of his guilt determined. Apparently, the security services needed to calm down the society by any means necessary.

Any attempt to draw a connection between Chechnya and Tsarnaevs — if they are guilty — is futile. They were raised in the United States, and their attitudes and beliefs were formed there. It is necessary to seek the roots of this evil in America. The whole world must struggle against terrorism — that we know better than anyone else. We hope for the recovery of all the victims, and we mourn with the Americans.
UPDATE: Victim Jeff Bauman helped authorities identify suspect:
Just before 3 p.m. on April 15, Bauman was waiting among the crowd for his girlfriend to cross the finish line at the Boston Marathon. A man wearing a cap, sunglasses and a black jacket over a hooded sweatshirt looked at Jeff, 27, and dropped a bag at his feet, his brother, Chris Bauman, said in an interview.

Two and a half minutes later, the bag exploded, tearing Jeff's legs apart. A picture of him in a wheelchair, bloodied and ashen, was broadcast around the world as he was rushed to Boston Medical Center. He lost both legs below the knee.

"He woke up under so much drugs, asked for a paper and pen and wrote, 'bag, saw the guy, looked right at me,'" Chris Bauman said yesterday in an interview.
UPDATE: NBC 4 New York has reportedly obtained travel records that reveal Boston Marathon bombing suspect Tamerlan Tsarnaev flew from New York to Sheremetyevo, Russia. Tsarnaev left January 12, 2012 and returned July 17th, 2012. The documents show there is no record of Dzhokhar Tsarnaev leaving the United States.
UPDATE: Buzzfeed seems to have found the at-large suspect's Twitter account. Click here to see examples of tweets, a few of which he sent post-bombings, even urging people to "stay safe" after the bombings.
UPDATE: Now that it has been confirmed that the suspect still on the loose is a current student at University of Massachusetts Dartmouth, the campus is now being evacuated. The most recent email from the college states "Students, staff and faculty have been asked to leave campus in a calm and orderly fashion. This action is in response to information that the person being sought in connection with the Boston Marathon bombing is a registered student. State, local, and campus police are on campus to assist with the evacuation and to conduct a full investigation." Look to our post on what it's like in Boston right now for more information.
Update: Here's an interview with the brothers' uncle, Ruslan Tsarni, who was horrified to learn that his estranged nephews perpetrated the bombing, and urged the outstanding suspect to turn himself in. H/t HotAir
Update: Scenes of the house being surrounded in Watertown: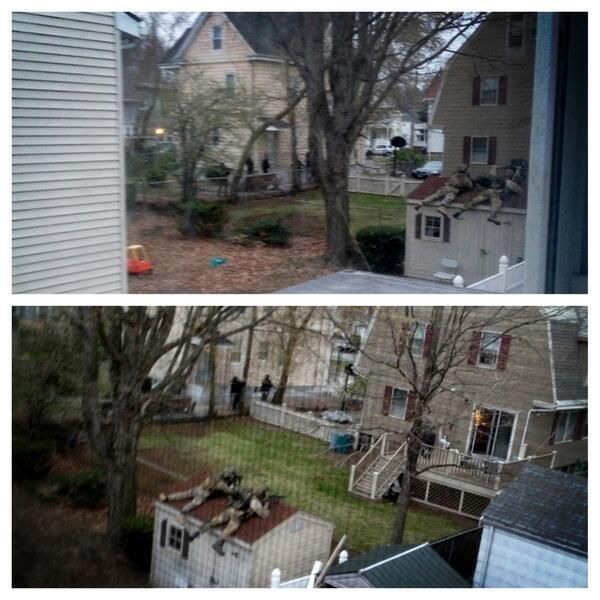 Update: The uncle spoke to reporters. His message to Dzhokhar: 'Turn yourself in and ask for forgiveness'. He also stressed that the two put shame on the family and on the entire Chechan ethnicity.
Update: Watch LIVE:
WATCH LIVE: Manhunt for #Boston bombing suspect in #Watertown bit.ly/NRZ9yw
— Fox News (@FoxNews) April 19, 2013
Update: The Wall Street Journal has a profile of the Tsarnayev family, fleshing out the brothers' story a bit more and giving some details about their personalities. From the article:
The family, which included two boys and two girls, had come to America to seek refuge from the war in Chechnya, where an Islamist rebellion had been crushed by the Kremlin under President Vladimir Putin. But soon after arriving their efforts to adapt quickly ran into headwinds.
Records indicate one or both of the bombing suspects had spent time in the Caucasus region since they first immigrated to the U.S. and then returned to the U.S., officials said.
The father, Anzor Tsarnayev, was a talented car mechanic and aspired to open his own garage, the friend said. But he never mastered English, the friend said, or opened his own workspace. He tried to make ends meet by doing odd repair jobs for $10 an hour.
About two years ago he was stricken with brain cancer, and departed to Germany last year for treatment, according to a friend of the family.
Both boys were good students, and the elder, Tamerlan, aspired to be a professional boxer, the family friend said. But he dropped out of community college and was soon drawn into religious matters, he said. Dzhokhar "had a gentler demeanor," the family friend said, but had also apparently taken a deeper interest in religious affairs.
Update: Police have recovered a gray Honda CRV, call off search for the car: car is empty, suspect whereabouts still unknown.
Update: Reaction from former classmates?
"But Tsarnaev wasn't a loner. I think he seemed to keep to himself in that he was kind of reserved, but his demeanor was always friendly and he would show up at the big social gatherings," Mazur said. "He was a familiar part of the community, he didn't isolate himself."
Update: Don't understand Americans...
#Boston bombing suspect Tamerlan Tsarnaev: 'I don't have a single American friend I don't understand them'fxn.ws/Z4mUrQ
— Fox News (@FoxNews) April 19, 2013
Update: Boston suspects' uncle says older brother was "a loser":
Tsarni was shocked when he was informed of the unfolding situation that left Tamerlan Tsarnaev dead in a shootout.
"He deserved his. He absolutely deserved his," Tsarni said. "They do not deserve to live on this earth."
UPDATE: Additional suspect? Bomb? Via MSNBC and police scanners:
"Authorities said they know the second suspect's location. They also are now searching for a third accomplice who is believed to have taken a train to Connecticut from Boston's South Station. The train has been stopped and surrounded in East Norwalk, Conn. Authorities fear that additional devices may have been planted."
UPDATE: The FBI have issued a wanted poster:
UPDATE: The Associated Press reports that the men's uncle has been talking to officers, and confirmed the identity of Tamerlan Tsarnaev, as well as the fact that they are brothers. He also pointed out that both have been in the U.S. for a decade, meaning Dzhokhar, who is still on the loose, has been in the country since he was 9.
A U.S. law enforcement official and the uncle of the suspects in the Boston Marathon bombings are confirming that the name of the second suspect is Tamerlan Tsarnaev, the older brother of Dzhokhar A. Tsarnaev, 19. Tamerlan Tsarnaev was killed in a gun battle with police in Massachusetts overnight.
Three law enforcement officials, speaking on condition of anonymity due to the sensitivity of the ongoing investigation, confirmed the bomb suspects were brothers. One of the officials and the men's uncle confirmed the identity of Tamerlan Tsarnaev.
The uncle, Ruslan Tsarni of Montgomery Village, Md., told The Associated Press that the men lived together near Boston and have been in the United States for about a decade. They traveled here together from the Russian region near Chechnya.
Update V: Police have surrounded a house in Watertown, MA, and a police helicopter is reported to be overhead. No gunfire has been reported yet, however, and no confirmation about who is inside. Stay tuned as the situation continues to unfold.
UPDATE: In a press conference, Gov. Deval Patrick said that Boston is now an "expanded lockdown area," those in and around Boston to "shelter in place" as the "massive manhunt" for Dzhokhar Tsarnaev continues. Video:
Gov. Patrick: Suspect one is dead, suspect two is on the run, we have an MBTA officer who is seriously wounded and in surgery right now, we have an MIT security officer who has been killed. There is a massive manhunt under way, a lot of law enforcement involved in that, to assist that, we have suspended all service on the MBTA, our public transit service, and that will continue until we think it's safe to open all or some of that. We're asking people to shelter in place, in other words to stay indoors, with the doors locked, and not to open them for anybody other than a primarily identified law enforcement officer...and at this point, all of Boston. This is a serious situation, we are We've got every asset we can possibly muster on the ground right now...but we are going to need the public to help us help them stay save.
Police chief: As the governor said, this is a rapidly developing situation. In the last half hour, I have learned information which I have passed on to Mayor Menino. Mayor Menino has asked me to come here, and tell you, that the shelter in place recommendation has been extended to all of Boston. We are working very closely with Washington, we are examining all databases for leads....this is an ongoing situation.
UPDATE: One suspect is dead after the violent shootout with police. The other suspect is on the run, and has been identified as a Russian from near Chechnya:
The surviving suspect was identified as Dzhokhar A. Tsarnaev, 19, of Cambridge, Mass., a law enforcement official said. Investigators believe that that both of the suspects were Chechens, a law enforcement official said.
The Boston region was in the grip of a security emergency as hundreds of police officers conducted a manhunt through the normally tranquil Boston suburbs.
The deceased suspect has been identified by the New York Times as Dzhokhar Tsarnaev's brother Tamerlan Tsarnaev. Dzhokhar is 19 years old, Tamerlan was 26 years old.
UPDATE - A new photo of the two men:
Stay tuned for much more as details unfold...
UPDATE - These men have been named, and tied to the bombings, according to the Boston Globe and Business Insider. The link:
One suspect in Monday's Boston Marathon bombings has been captured, according to an official with knowledge of the investigation. Another remains on the loose in Watertown after a firefight with police. Authorities have established a 20-block perimeter as they search for him. A scene of chaos descended on Cambridge and Watertown late Thursday night and early Friday morning, as police confirmed an MIT police officer was shot and killed, and an apparent carjacking led police on a wild chase into Watertown.
One MIT police officer is dead after a wild shootout with a young man who may be one of the potential Boston bombings suspects. Officials say explosives were used during the incident. As of this writing, one man is in custody, while the other remains on the loose:
Police in Watertown, Mass., reportedly were searching for a heavily armed suspect who may have been involved in the shooting death of an MIT police officer after reportedly taking another suspect into custody early Friday. Police and federal authorities were investigating if the suspects are possibly tied to the Boston Marathon bombing. WCBV-TV said the suspects threw and detonated explosives during a car chase with police. Police were working to apprehend a young male with a hat on who was reportedly pulling on vehicle doors, according to police scanner traffic. An FBI official told Fox News early Friday that one person was in custody and an officer was down but said it was too early to tell if the police activity in Watertown or the MIT shooting were related to the Boston Marathon bombing. Dozens of officers and National Guard members descended on Watertown shortly after the shooting outside a building on MIT's campus in Cambridge, according to the Associated Press.

One man has been arrested, according to ABC News:
Police have a suspect in custody in Watertown, Mass., and the FBI are "aware of the law enforcement activity in the greater Boston area."

Though details are still sketchy, it seems possible, if not probable that this confrontation with authorities is related to Monday's bombings. The FBI released photos of two men wanted for questioning last night, which may have borne fruit. In light of the "pulling on car doors" detail in the story above, perhaps they were desperate to get out of town.